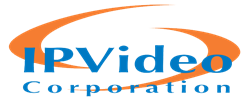 In a trade show full of ordinary booth displays, IPVideo will be showcasing all its live solutions in a dynamic, mobile command showcase.
Bay Shore, New York (PRWEB) March 30, 2017
ISC West, Booth #8065, April 3, 2017 - IPVideo Corporation, a leading manufacturer of IP-based video surveillance and command center solutions, today announced the line-up of advanced video management solutions (VMS) that will be on display at the ISC West conference, taking place this Wednesday through Friday in Las Vegas, NV. The company's products change how government, education, healthcare, and commercial customers interact with video and other disparate sources of information.
In a trade show full of ordinary booth displays, IPVideo will be showcasing live solutions in a dynamic, legitimate command center environment. The mobile command vehicle is a showcase of an actual live command center, completely outfitted with fully integrated security solutions that enable IPVideo to simulate actual security events and allow visitors to experience our solutions in real-world scenarios.
"We look forward to showcasing the latest and greatest of our product portfolio at this key industry event," said Steve Rice, IPVideo Corporation's Director of Business Development. "Our goal is to help organizations expand their security capabilities without breaking the budget."
Mosaic Enterprise marries advanced video management capabilities with hundreds of integration options. It supports an unlimited number of cameras through an intuitive yet highly advanced VMS platform. For single site or multi-building locations, Mosaic Enterprise enables quick incident reaction time and the ability to efficiently handle video export.
SentryVMS is a simple and intuitive enterprise-class video management system (VMS) that combines feature-rich software pre-loaded on powerful, purpose-built hardware, to deliver scalable network video management solutions. It is a cost-effective alternative to legacy systems, providing flexible VMS choices for installations of all sizes.
NomadHD is a small camera that allows schools to capture HD surveillance video from locations that lack power or an Ethernet connection. With its built-in rechargeable battery and wireless Wi-Fi modem, it can be placed virtually anywhere to transmit crystal clear full-frame video back to your VMS.
AVFusion is an easy-to-install, easy-to use, network-based audio/video recording system designed to generate frame-by-frame, synchronized A/V recordings. AVfusion uses network (IP) video cameras to record any activities that require others to "watch and listen"- such as demonstrations, consultations, simulations, presentations, or interrogations - without actually being there. Recording is as simple as clicking a button, and recorded files can be shared and viewed using standard multimedia players used by today's computers, tablets and phones.
C3Fusion is an enterprise IoT manager that integrates disparate security sub-systems, IoT devices, and sensors into a Common Operating Picture (COP), and then filters and prioritizes the data being communicated to enable security personnel to make informed decisions with complete situational awareness. It provides an operator with the ability to take control of a security event, efficiently resolve the incident, and automatically archive the incident in a common database for later review or forensic analysis.
The International Security Conference & Exposition – also known as ISC West – is the largest event in the U.S. for the physical security industry, covering Access Control, Alarms & Monitoring, Biometrics, IP Security, Video Surveillance / CCTV, Networked Security Products and more.
ABOUT IPVIDEO CORPORATION:
An industry pioneer since its introduction of one of the first network-based surveillance recording solutions in 1996, IPVideo Corporation is now at the forefront of developing unique, innovative solutions that harness the power of IP video technology. Today, the company's systems are trusted by Fortune 500 companies, government agencies and municipalities, utilities, healthcare facilities, school districts and leading universities to mitigate risk while protecting people and property. A commitment to an open-standards philosophy and delivering best-in-class performance and value underlies all offerings―from physical security solutions that bridge to the Internet of Things, to purpose-built HD audio/video recording solutions for education, law enforcement, healthcare, and beyond. The company's worldwide client base is served by a network of certified distributors, dealers and system integrators, who benefit from ongoing corporate support and training. IPVideo Corporation is headquartered in Bay Shore, NY. For more information, visit http://www.ipvideocorp.com.
To schedule an on-site meeting with IP Video, please contact:
Kayla Perkins
kayla.perkins(at)fusionpr(dot)com
646-475-8442