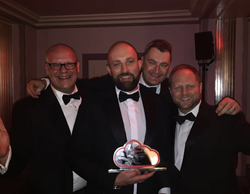 "Oracle has invested heavily in its IaaS Cloud. Selecting Cintra as its UK partner of the year in this field underlines the confidence Oracle has in Cintra's ability to support this key area of its business and deliver success to our customers."
(PRWEB UK) 1 April 2017
Bristol, UK, 30th March 2017: With cloud adoption gathering pace across business and the public sector, IaaS is playing an increasingly important role as the cloud platform of choice for mission-critical, enterprise-grade workloads.
Track record of cloud success
The award recognizes the success of Cintra's architecture-led cloud transformational approach, which has seen it deliver numerous IaaS projects on the Oracle Cloud, delivering enterprise cloud solutions for large corporations, public sector bodies and independent software vendors.
Brendan McNamee, co-founder and CEO at Cintra, said: "Oracle has invested heavily in its IaaS Cloud. Selecting Cintra as its UK partner of the year in this field underlines the confidence Oracle has in Cintra's ability to support this key area of its business and deliver success to our customers."
Proven cloud delivery approach
Abdul Sheikh, co-founder and CTO at Cintra, added: "Most organizations are looking at how they can harness the benefits of cloud around their enterprise Oracle systems.
"Our proven blueprinted approach helps customers to formulate a coherent cloud strategy, then design, build and manage the cloud platform. This methodology gives organizations the confidence they need to get on with their core business. We're delighted to have been recognized by Oracle as its go-to partner in this vitally important and growing area."
For more details on Cintra's cloud capabilities, please see http://www.cintra.com/cloud.