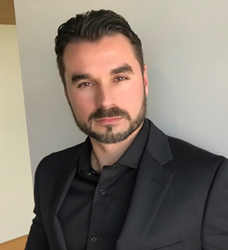 Los Angeles, CA (PRWEB) April 04, 2017
Sky-Frame, the legendary Swiss frameless sliding door brand, announces the addition of industry veteran Karl Borowiec to their US team as Senior Sales Manager in the greater Los Angeles area.
In this role, Borowiec will manage all sales staff and serve as the official liaison between the US and Sky-Frame's Swiss headquarters. Borowiec, who formerly served as Senior Project Manager at Vitrocsa USA and TRU Architectural, moves into this role with the objective of making the Sky-Frame as well known and respected in the US markets as it is across Europe. "What drew me to Sky-Frame was not only the fact that they are responsible for the world's leading slim sightline system, it was the opportunity to be a part of growing the industry leader to a global level," he shared.
The newly created position is part of Sky-Frame's expansion in the US market. Their newest Los Angeles showroom opened in January, 2017 and is based in Culver City's Blackwelder Creative Quarter. The showroom features the entire Sky-Frame product portfolio and is the location of the company's United States operations.
"The entire Sky-Frame team is thrilled to have Karl on-board. Demand for our products in the United States is growing quickly and his extensive expertise of the market and the competition makes him exactly what we need to continue our expansion," said, Nic Neumann, COO of Sky-Frame.
About Sky-Frame
Thanks to its great passion and in-depth understanding of technology, architecture and spatial design, Sky-Frame is the leading international supplier of frameless sliding door systems. True to the brand promise "A view, not a window", the flush-fitted glass panels facilitate the fusion of indoors and outdoors into a unique living atmosphere. Together with international distribution partners, Sky-Frame fulfills each and every customer's wish for the highest quality; around the globe, individual living dreams have become reality in several thousand projects. The company, which has its development and production site in Switzerland, is the regular recipient of coveted design and corporate prizes for its premium product and innovative spirit. Further information and reference projects can be found at http://www.sky-frame.com.
Media contact:
media@sky-frame.com