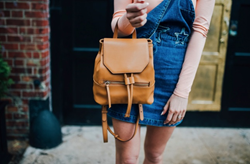 This is the first handbag brand that has ever created a crossbody that can fit every body type comfortably, and I think that is incredible!
Los Angeles, CA (PRWEB) April 04, 2017
88 Handbags is a movement made up by diverse women that are passionate about the environment, animals and the way products are produced. They are looking for International Distributors to join the movement and to help them expand worldwide! 88 is currently based only in the US. They recently joined Fancy.com, an online shopping hub. Fancy has done a great job of showcasing how international customers and bloggers are responding to the brand. Due to the recent increase in demand, 88 is wanting to expand with the help of international distributors. See below for ravings from one of their fans on Fancy, who also happens to be an international blogger!
"What I love about 88 Handbags is the inclusivity. They are affordable, which is a huge check in my books! The brand believes in equality, so every handbag is animal free, and made from buttery soft vegan leather. And my favorite part – the brand promotes positive body image. Every single handbag can also come with a free extension strap for women who are curvy or pregnant – like, HELLO! Fashion World?! Why hasn't this been created before!!? This is the first handbag brand that has ever created a crossbody that can fit every body type comfortably, and I think that is incredible!"
-Andrion Pion- "A Slice o' Pi" Blogger
If interested, visit their site at https://www.88handbags.com or email them at info(at)88-eightyeight(dot)com.
About The Brand:
88 is passionate about creating luxury products without having to break the bank! How do they do this? They manufacture and sell directly to the customer, no boutique or department store markups! That cost savings is then extended to the customer. 88 is also at the cutting edge of technology.
They pride themselves on using outstanding various vegan leathers. They offer unique textures, customization and forward thinking designs to provide their customers with the most environmentally friendly products on the market.
88 develops their own custom hardware, keeping in mind what is best suited for the environment. The quality is equal to that of handbags that are double the cost. All of their suppliers are certified compliant for human rights and good working conditions. They are proud of the relationships with their suppliers, most of whom they have worked with for years and have become a part of the 88 family.
88 Handbags donates a percentage of every sale to CARE, a charity that assists in educating women around the world. They believe that educating women is the key to promote a better world. They also encourage customers to send all unwanted bags to Dress for Success, another charity that empowers women and helps them achieve economic independence.
88 Handbags is also PETA approved. No animal products are used in the making of their products, ever! The founder of 88 Handbags is a lifelong vegetarian who believes that environment would greatly benefit from the reduction of factory farming.
What Does 88 Mean?
The number "88" is the number of constellations in the sky. Shuttle mission 88 started construction of the international space station finished in 1988. In ham radio "88" is the sign off that means love and kisses. "88" is considered the luckiest number in Chinese culture as it sounds like "word for wealth". The snake swallowing its own tail is an ancient Egyptian symbol for the self-sustaining, self-contained universe. "88" represents the cycle of creation and recreation.
To learn more about 88 Handbags, go to: http://www.88-eightyeight.com
You may also visit their social media pages, listed below:
Instagram: https://www.instagram.com/88.eightyeight/
Twitter: https://twitter.com/88_handbags
Facebook: https://www.facebook.com/88handbags/
Pinterest: https://www.pinterest.com/Eightyeight_88/
Blog: https://88fashionblog.wordpress.com
For more information, please contact: Tosha Clemens at (818) 427-1449, PR(at)88-EightyEightcom