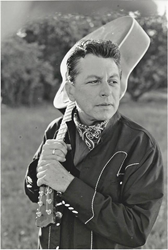 Brenham, TX (PRWEB) March 30, 2017
The Washington on the Brazos State Park Association will celebrate 181 years of Texas—where the stars are big and bright—at its annual Sundown Social on the grounds of the Rockin' Star Ranch at 6 p.m., Saturday, April 22, 2017.
This fundraising event will feature musical entertainment by the 2016 Texas State Musician recipient Joe Ely. A Lubbock, TX native, Ely is a singer/songwriter whose music is a mixture of country, honky-tonk and rock & roll. A good friend with C.B. "Stubbs" Stubblefield, Ely began his music career with performances at Stubb's Barbeque restaurant in Lubbock, before Stubb's moved to Austin.
The evening starts at 6 p.m. with cocktails and appetizers, followed by a gourmet wagon steak dinner by the Sourdough Chuckwagon Cookers and music by Joe Ely. The Texian Treasures Auction will be emceed by Nick Hinze. Honorary Chairs are Washington on the Brazos Board Member Hondo Powell and wife, Carrie Cavanaugh Powell.
The Association will honor Gus Mutscher, former Speaker of the Texas House of Representatives.
A preview of auction items to be featured in the event's "Texian Treasures Auction and Raffle" can be found at the WOB website under the Special Events tab. Examples of some "truly Texas" item in the auction include dove hunting and fishing trip to Argentina, South America for four; private dinner for 20 people with State Representative Leighton Schubert; private tour of San Jacinto Monument and Battleship Texas; and so much more.
All proceeds from this Texas-sized party will benefit the Washington on the Brazos State Park Association and its educational programming, events and maintenance of the expansive 293-acre park grounds encompassing Washington on the Brazos State Historic Site, the site where 59 delegates bravely met in 1836 to make a formal declaration of independence from Mexico.
"The Washington on the Brazos State Historic Site is a cornerstone of Texas history, so its conservation is essential in honoring the legacy of our state," says Park Association President Cyndee Smith. "It is important for people to know that every dollar raised directly benefits WOB and that the money stays here: 'WHERE TEXAS BECAME TEXAS.'"
Rockin' Star Ranch is located at 8002 Fuelburg Pease Lane, Brenham, Texas. Individual tickets to the Sundown Social are $125 each, and should be purchased before April 17, 2017 by contacting Ginger Moreland, Association Administrator, at 979-830-1824 or office(at)wheretexasbecametexas(dot)org. Table and corporate/individual sponsorships also available.
Dedicated to supporting the site's preservation projects, celebrations and educational opportunities, the Association has played an integral part in the creation, expansion or reconstruction of the Star of the Republic Museum; the Visitor Center and its displays; Independence Hall; and Barrington Living History Farm, the home of Dr. Anson Jones. Additionally, the volunteer organization has purchased a mobile phone app; a new website for the complex; playground equipment; animals for the farm; bluebonnet and other wildflower seeds; and an important collection of historical papers and documents for the museum.
Chartered in 1955, the Washington on the Brazos State Park Association is the oldest TPWD non-profit 501(c)(3) support group for WOB (23400 Park Road 12, Washington, Texas 77880), which includes Independence Hall, Star of the Republic Museum, Barrington Living History Farm and Fanthorp Inn In Anderson.
Washington on the Brazos State Historic Site is found on the Brazos River at the original townsite of Washington, Texas, a major political and commercial center in early Texas. It is located at 23400 Park Road 12, Washington, TX, 77880—approximately halfway between Brenham and Navasota, off of State Hwy. 105. From Hwy. 105, follow either FM 912 or FM 1155 to Park Road 12. For additional information about this historic site, the Park Association or The Sundown Social, call 979-830-1824 or visit the site's website at http://www.wheretexasbecametexas.org.