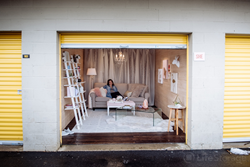 Women have expressed a need in their lives for the female equivalent – a quiet reprieve from the world.
Buffalo, N.Y. (PRWEB) March 31, 2017
Life Storage, Inc. announced today the launch of a new line of products targeted specifically to their female customers. The state-of-the-art 'She Shed' offers women a discreet and luxurious escape from the perils of motherhood.
The national self storage company will be testing the new 'She Shed' product line in select markets this summer. These specialized 10 by 20 foot units come equipped with decorative lighting, a comfy couch, a plush carpet, a flat screen television, and engineered hardwood floors. Protected with an impenetrable security system, the unit is designed to be untraceable – keeping unwanted distractions out while providing a calm, serene atmosphere within.
'The idea to turn conventional storage units into 'She Sheds' came as a direct response to a surge in demand from our female customers who have grown tired of watching men retreat to their 'man caves,'" said Molliann Spear, director of concept design for Life Storage. "Women have expressed a need in their lives for the female equivalent – a quiet reprieve from the world. At Life Storage – we recognize that it's not just storage, it's life."
While the basic 'She Shed' unit starts at $99 a month, various upgrades including high-speed internet access, an in-unit P.O. Box, a monthly subscription to NetFlix, and regular standing masseuse visits, among other options, are available for an added fee.
"We are committed to personalizing our 'She Sheds' to meet our customer's unique desires," said Spear. "Whether it's an in-unit Jacuzzi or a portable sauna, we are open to any and all customizations to ensure the sanctity of the space for our customer."
Women are encouraged to share their personal 'wish list' with Life Storage's Facebook, Instagram and Twitter accounts using #ThatsWhatSheShed. Suggestions will be considered for future product enhancements.
Starting in summer 2017, 'She Sheds' will be available in most major cities, including: Los Angeles, Houston, Chicago, Dallas, Miami, Atlanta, and the surrounding New York City region. Factors including population density, the average number of people per household and median home square footage were taken into account when selecting initial markets to offer the 'She Shed.'
For additional information or to reserve your 'She Shed' online, please visit https://www.lifestorage.com/SheShed/.
About Life Storage, Inc.
Life Storage, Inc. is a self-administered and self-managed equity REIT that is in the business of acquiring and managing self storage facilities. The Company operates more than 650 self storage facilities in 29 states under the names Life Storage and Uncle Bob's Self Storage. For more information, visit https://www.lifestorage.com/.
###
Media Contact: Christine Denham, (281) 433-5067, cdenham(at)martingroupmarketing(dot)com