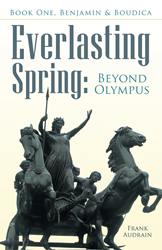 EDEN PRAIRIE, Minn. (PRWEB) April 03, 2017
As a work of historical fiction rooted in the Judeo-Christian ethos and the Greco-Roman civilization's massive influence on western society, author Frank Audrain's "Everlasting Spring: Beyond Olympus" marks book one of his planned trilogy.
Set in first-century Brittania as Christianity begins to rise in the pagan world, this historical saga centers on a Jewish man and Celtic woman who embark on a journey to find peace during a time of great upheaval as evil spreads, causing dire consequences for the liberty of millions.
"This book caused me to look inward and confront the truth about the person I am, and the better person I want and strive to become," said Audrain. "It's what we are called to do, our reason for being, our purpose in a meaningful life: to love truly and find happiness."
"Everlasting Spring: Beyond Olympus" serves as a trilogy that will jump forward through time up to the present and show how the legacy of those from centuries prior can continue to influence the world.
Tom Hyman, former magazine and book editor and fiction author, calls the book "…A completely engaging story both emotionally and intellectually."
"Everlasting Spring: Beyond Olympus"
By Frank Audrain
ISBN: 978-1-48083-208-4 (hardcover); 978-1-48083-207-7 (softcover);
978-1-48083-209-1 (eBook)
Available on Amazon, Barnes & Noble, and Archway Publishing
About the author
Frank Audrain is a self-described seeker of truth whose writing is inspired by his experiences during a remarkable life. He currently resides with his wife, Dana, in Eden Prairie, Minnesota and is working on the next installment of his trilogy. To learn more, visit http://www.theeverlastingspring.com.
###
Review Copies & Interview Requests:
LAVIDGE – Phoenix
Bryan Beach
480-998-2600 x 510
bbeach(at)lavidge(dot)com
General Inquiries:
LAVIDGE – Phoenix
Amanda Eisen
480-998-2600 x 540
aeisen(at)lavidge(dot)com