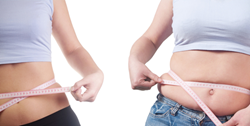 Many patients who come in for CoolSculpting complain that no matter how much they exercise or diet they still have a hard time losing the fat in the upper arm area.
New York, New York (PRWEB) April 04, 2017
CoolSculpting, a proprietary cooling technology that reduces stubborn bulges of body fat, recently announced FDA clearance for treating the upper arm area, distinguishing Coolsculpting as the only non-invasive fat reduction technology cleared by the FDA for reducing upper arm fat.
Of the 29 million men and women in the U.S. who are interested in CoolSculpting, nearly half of them expressed "concern about unwanted arm fat," said the CEO of the company that produces the CoolSculpting machine. According to CoolSculpting representatives the FDA's approval demonstrates "CoolSculpting's ability to successfully treat upper arm fat" and acts as a "testament to [the] technology's efficacy and versatility, as well as [CoolSculpting] position as the market leader in non-invasive fat reduction."
A Minimally Invasive Treatment for Reducing Upper Arm Fat
"Many patients who come in for CoolSculpting complain that no matter how much they exercise or diet they still have a hard time losing the fat in the upper arm area," explains Dr. Anca Tchelebi, M.D. a cosmetic medicine specialist and owner of Park Avenue Medical Spa in Westchester New York. Tchelebi, who provides CoolSculpting as a non-invasive alternative to Liposuction says that in many cases, CoolSculpting is an "ideal solution for patients who have deposits in different areas which are difficult to reduce even with exercise and good eating habits."
The FDA clearance for fat reduction in the upper arm area was specifically approved for the CoolSculpting applicator, the CoolAdvantage Petite. The CoolAdvantage Petite applicator for the CoolSculpting system "optimize[s] the performance of CoolSculpting in the upper arms" and is scheduled for full commercial release sometime in the summer of 2017. The CoolAdvantage Petite adds to the CoolAdvantage line of applicators. The CoolAdvantage Petite is equipped with 2 interchangeable contours, specifically designed to reduce fat from the upper extremities during a treatment that takes around 35 minutes to complete. Dr. Tchelebi further explains that "the CoolSculpting system comes with several applicators of different sizes and shapes to conform to different body parts and different sizes of fat deposits so there is no unevenness or irregularity."
About the CoolSculpting Procedure and its Providers
The CoolSculpting treatment is offered worldwide, available in over 80 countries, and performed by a network of certified doctors and aesthetic specialists. A list of CoolSculpting providers is available at http://www.coolsculpting.com. CoolSculpting uses a mechanism known as Cryolipolysis, which has been clinically shown to reduce subcutaneous fat cells by exposing those cells to controlled cooling. CoolSculpting can be a minimally invasive substitute for liposuction and is ideal for healthy men and women who struggle to reduce stubborn fat deposits.
Dr. Anca Tchelebi is an experienced CoolSculpting provider at Park Avenue Medical Spa in the Westchester NY area. Like many physicians who specialize in cosmetic medicine, Dr. Tchelebi welcomes the latest FDA approval, as another victory in the fight against stubborn fat deposits that resist diet and exercise.