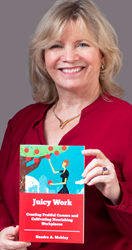 "I am discovering that people are eager for real-world tips and techniques that can help them be more productive, pursue rewarding business relationships and achieve a balanced perspective on their work and personal life." Sandy Mobley, author Juicy Work
Falls Church, VA (PRWEB) March 31, 2017
"Juicy Work" author, Sandra Mobley, is launching a monthly "Juicy Work" newsletter to provide helpful tips for creating fruitful careers and cultivating nourishing workplaces.
The newsletter will assist individuals in developing rewarding careers and guiding organizations in their efforts to foster highly productive teams. To subscribe to the Juicy Work newsletter, send your name and email address to: nancy@NMVstrategies.com
"With our 'Juicy Work' newsletter, we will provide tips and insights on leadership coaching and organizational development while awakening the readers to the possibility of bringing all their energy, passion and experience into finding their own Juicy Work," said Sandy Mobley, CEO and founder of The Learning Advantage. "I am discovering that people are eager for real-world tips and techniques that can help them be more productive, pursue rewarding business relationships and achieve a balanced perspective on their work and personal life."
To get a copy of the "Juicy Work," click here.
Mobley recently appeared on national iHeartRadio station, Talent Talk, where she spoke about "Juicy Work" and how a change in mindset and behavior can help foster a work culture where people are productive and happy. To listen to the episode: http://www.talenttalkradio.com/e/celine-foord-and-sandy-mobley-03072017/
About the Learning Advantage
The Learning Advantage provides coaching services, organization development, leadership development and training to corporations, associations, and government organizations since 1992. Since that time, The Learning Advantage has served over 80 medium- to large-sized organizations employing a cadre of highly skilled certified coaches and trainers. http://www.LearningAdvantageInc.com.
About Sandra Mobley
Sandra A. Mobley, founder of The Learning Advantage, is an expert in executive and team coaching, leadership development and organizational development with more than 25 years of experience. Mobley co-designed and served as a faculty member in the leadership coaching certificate program at Georgetown University. She earned her masters in Business Administration from Harvard University and is certified a master coach by the International Coach Federation. Her clients include Capital One, AARP, EPA, Marriott Corporation, EMMES, US Departments of Energy, Internal Revenue Service and Ernst & Young.
Mobley is a keynote speaker on numerous topics covering leadership, business relationships and career development. She authored the highly acclaimed Juicy Work, Creating Fruitful Careers and Cultivating Nourishing Workplaces.
For more information on The Learning Advantage or to schedule Sandy Mobley for your next workshop or keynote speaking presentation, please contact Nancy Valent, 216-513-8740 or email nancy@NMVstrategies.com