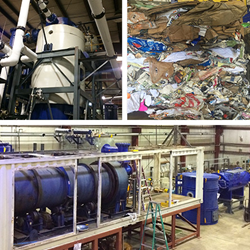 University Park, IL (PRWEB) April 01, 2017
The research facility, funded by the United States military, features waste to energy (WTE) through gasification, and features the patented TURNW2E® Gasification System. A distinguishing factor of this unit, is that it has the capability to produce different types of final energy output types, including steam, hot water and air conditioning, in addition to electricity.
"The pilot facility represents a unique opportunity for the military to experiment with a variety of applications for the TURNW2E® core, integrated with specially designed equipment to use specific waste types and produce specific power outputs, and at a scale comparable to what an installation at a base or forward operating position might be," commented Ms. Renee Comly, president and CEO of BESI. Comly added that the full scale WTE research and development facility is now open for evaluation for not only military, but also for visitors interested in municipal and commercial evaluation.
The BESI system offers advantages beyond its ability to dispose of wastes such as wood, biomass, packaging, paper, plastics, cardboard, yard, and demolition debris, all of which are processed and converted efficiently by the system. The system also handles traditionally difficult to dispose of wastes such as tires, dewatered sewage sludge green waste and oils, in addition to a variety of facility maintenance wastes including rags, gloves, apparels, used engines filters, organic solvents, paints, and other nonhazardous chemicals. Liquid waste remediation is a specific area of interest for the TURNW2E® system, which has a facility accomplishing this overseas, with plans for many more.
By enabling different forms of energy to be evaluated and produced at the research facility, all branches of the military can evaluate how to best implement WTE on their respective bases. The facility is modular by design, with all of the key components skid-mounted to facilitate a variety of waste scenarios and energy output types. And, the TURNW2E® system in University Park is large enough to replicate real world scenarios and base requirements in terms of both waste consumption and resulting energy production.
Comly explains, "For military or municipal purposes, electricity is not always the best-case energy output. For instance, forward operating bases, especially those situated in extreme weather climates, may have alternate energy requirements such as in the form of air conditioning or steam. By using the system to convert waste directly into a specified energy type, we're providing a vivid picture of how a WTE gasifier will realistically perform for an array of scenarios."
The new pilot facility is the culmination of several successful TURNW2E® demonstrations and installations that BESI has completed for the US military. A full scale, 100TPD commercial facility in Korea, followed by the trial installation of a BESI-designed TURNW2E® system, located in Wilmington, IL, initially validated the military use concept. Then, a larger scale subsequent installation at Joint Base Pearl Harbor-Hickam on the campus of the Hawaii Air National Guard demonstrated the efficacy of converting 10 tons of waste to energy per day. The University Park, IL pilot installation will provide the US military with an even more comprehensive evaluation of ongoing real applications of the TURNW2E® driven system. BESI's methodical approach to prove it has the fundamental ability to make the technology reliable and sustainable is resonating with both military and government leaders, as with each trial, they come one step closer to making W2E gasification technology a military reality to support strategic waste reduction goals.
The demonstrations to date have already opened up dialogue with different military branches, as they realize potential applications. For example, Navy ports could potentially utilize a WTE system to provide cold ironing – shore side electrical power to a ship at berth – using the same waste coming off a ship upon arrival, for a true zero net waste solution.
BESI is also in discussions with regional universities to use the research facility as the basis for developing education programs for military and civilian engineers, as well as hands-on training. Since its origins, the company has worked closely with numerous universities on educational and training programs for alternative energy usage and production.
"We look forward to continuing our work to support the military's energy resilience and waste reduction goals," concluded Comly. "I'm confident that our mutual commitment to scalable, reliable energy will lead to a variety of gasification solutions for the military, which may include coal as well as waste, and ultimately create sustainable, eco-friendly energy programs to serve the global civilian population as well."
About Biomass Energy Systems, Inc. (BESI)
BESI is a woman-owned engineering company that provides innovative technology for alternative and renewable energy projects. Based in University Park, IL, BESI was formed in 2007 to develop applications for alternative and renewable energy conversion technologies. Beginning with small-scale gasification, the Company has branded a variety of innovative designs and specific features that are an evolution in the application of gasification, including the TURNW2E® system. For more information, visit: http://www.besiusa.com.
About TURNW2E ® Waste-To-Energy Gasification System
A patented technology, BESI provides custom-designed solutions using the TURNW2E® gasifier core integrated with a series of basic balance-of-plant units, which are designed to work together as one continuous operation. The systems are highly customizable based on energy and performance requirements. Applications include industrial waste, wastes from disaster recovery operations, animal and crop wastes, cellulosic biomass, tires, non-recyclable plastics, PVC plastics and municipal solid waste (preferably after recyclables have been removed). Through the use of an innovative and proprietary reactor design, the TURNW2E® Gasification System can accommodate a variety of materials with different moisture contents, providing maximum feedstock flexibility for gasification, while producing consistent syngas.
For additional press information, please contact:
Ed Delia
Delia Associates
T: 908-534-9044
E: edelia(at)delianet(dot)com