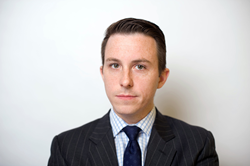 Los Angeles, CA (PRWEB) April 03, 2017
LINE Webtoon (http://webtoons.com), the popular digital comics publisher pioneering the development and distribution of comics worldwide, today announced they have tapped seventeen year Viacom veteran Cedric "Mac" Foster as U.S. head of marketing and business development. In this role, Mac will oversee all brand and content marketing efforts and development of new lines of business for LINE Webtoon U.S. He most recently served as senior vice president of brand marketing, digital and fan engagement strategy at Spike where he directed the multi-platform launch and maintenance strategy for several Spike series including the current mega-hit "Lip Sync Battle." Foster, whose appointment is effective March 6, will report to LINE Webtoon Global Head, Hyungil Kim.
"Cedric is a marketing mastermind with years of experience developing and producing some of the most impressive multi-platform campaigns in the entertainment industry," said Kim. "His attention to detail and ability to strategize and anticipate what audiences are looking for, makes him an invaluable addition to the LINE Webtoon team and we can't wait to get started working together."
Foster got his start at Viacom in 2000 at MTV as a freelance production assistant and has produced content and earned a myriad of show credits at Spike, MTV, MTV 2, and VH1, including "The MTV Music Awards" and "MTV's Unplugged." Prior to Viacom, Foster kicked off his professional career at Sport Illustrated where he served as an associate marketing manager.
LINE Webtoon has risen to popularity in the U.S. with their vertical scrolling comics and thousands of amazing titles on the platform. LINE Webtoon has recently announced a partnership with CAA, who exclusively represents LINE Webtoon's portfolio of comic titles for film and television opportunities in the U.S. The company has also aligned itself with fellow creator-friendly platform, Patreon, to further showcase their dedication to nurturing and fostering new up-and-coming talent. Already known for Korean mega-hits "Noblesse" and "Tower of God", creatives across the entertainment spectrum are coming to the hit publisher including Emmy Award-winner Dean Haspiel, "2 Broke Girls" star Beth Behrs with her post-apocalyptic YA title "Dents," comics legend Stan Lee and his upcoming "Backchannel", acclaimed writer Warren Ellis and four-time Eisner-winner Colleen Doran and their highly anticipated "Finality," and internet super-influencer Michelle Phan and her first foray into digital comics "Helios : Femina."
About LINE Webtoon:
LINE Webtoon is a popular digital comic service available on smartphones, tablets and web browsers, launched by NAVER, Korea's top search portal. Pioneering distribution and consumption of digital comics worldwide, LINE Webtoon is taking the comic experience to the next level by providing readers with daily curated content from around the globe, and giving creators an intuitive platform designed to help them easily publish and publicize their own original content.
http://www.webtoons.com