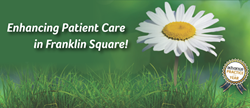 Under the care of Clinical Director, Paige Daly and our expert team of clinicians, rest assured our new patients will receive the best quality of care
Franklin Square, NY (PRWEB) March 31, 2017
Franklin Square, NY and Uniondale, NY March 31, 2017 – Professional Physical Therapy, a leading provider of physical therapy and rehabilitation services throughout New York, New Jersey and Connecticut, will open a brand new, state-of-the-art facility in Franklin Square at 605 Franklin Avenue, in Nassau County, Long Island, NY on Monday, April 3rd.
This new standalone clinic is a spacious 2,970 square feet, and is conveniently located along Franklin Square's main road in Nassau County, and just a short drive from Queens.
"The location and size of the new Franklin Square clinic make this location convenient and easily accessible to patients from the neighboring communities of Elmont, West Hempstead, Floral Park, Garden City Park and many parts of Queens. Under the care of Clinical Director, Paige Daly and our expert team of clinicians, rest assured our new patients will receive the best quality of care," states Tim Mauro, Partner and Vice President of Clinical Operations at Professional Physical Therapy in Queens and Long Island.
George Papadopoulos, Founding Partner and Chief Development Officer at Professional Physical Therapy adds, "I owe a huge thank you to our patients for allowing us to serve them, and to our referral sources for consistently trusting us with their patients' care. We're only three months into the year and we've already opened up three brand new state-of-the-art clinics in Rockville Centre and Franklin Square, Long Island, and another in the Hell's Kitchen area of Manhattan. This would not be possible without their support, coupled with the hard work and dedication of our clinical and development teams."
The opening of the Franklin Square clinic is Professional Physical Therapy's 110th clinic, and its 25th on Long Island, NY. In addition to Physical Therapy, many of Professional's Long Island clinics offer specialty services including Hand, Occupational, Vestibular, TMJ, and Aquatic Therapy. For more information and a list of all of Professional Physical Therapy's locations, please visit http://www.professionalpt.com.
ABOUT PROFESSIONAL PHYSICAL THERAPY
Professional Physical Therapy, headquartered in Uniondale, New York, is a leading provider of physical and hand therapy and rehabilitation services throughout the New York metropolitan area, New Jersey and Connecticut. Professional is an award-winning organization, most recently honored as the recipient of the 2016 ADVANCE for Physical Therapy and Rehab Medicine magazine's annual Practice of the Year award, and selected based on clinical expertise and exceptional patient experience. Founded in 1998, Professional Physical Therapy operates 110 outpatient physical and hand therapy centers: 12 located within Equinox Fitness Centers, five located in Blink Fitness facilities, one located in a STACK Sports Performance Center, one inside a Golf & Fitness Academy, one inside Chatham Club, one inside Strive Fitness, and 89 standalone.
The company's outpatient physical therapy centers provide treatment to patients suffering from musculoskeletal impairments associated with orthopedic and sports injuries and other medical conditions. Professional Physical Therapy also operates a 20,000 square foot sports performance training facility in Garden City, NY, as well as four fitness centers in Stamford, Wilton, Southport, CT, and Copiague, NY.
http://www.professionalpt.com