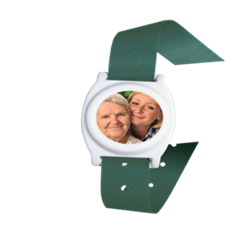 CODE WATCH - Customized
Brookfield, Wisconsin (PRWEB) March 31, 2017
Today, more than 1 in 5 residents of skilled nursing facilities are at significant risk of wandering to a potentially dangerous place such as a stairway or even inadvertently exiting the facility, according to the U.S. Centers for Medicare and Medicaid.
In an effort to provide a safe and secure environment for these residents, many senior living facilities and memory care units make the decision to install wireless wander management systems that can notify staff when an at-risk resident attempts to open a door or access an area they are not able to safely navigate. At the same time, other facilities resist implementing such technology out of concern for preserving resident dignity—a concern related to the fact that the systems require that each resident have a small wireless transmitter with them at all times.
RF Technologies (RFT), a leading provider of wireless wander management systems, has just released an update to the CODE WATCH® transmitter that allows staff to place a personalized photo or customized printed image on the watch face. Whether it's the photo of a loved one, depicts a favorite sports team, or serves as a reminder of an upcoming holiday or special event, the photo can assist the resident in memory recall and help to encourage conversation and social interaction. Whatever image a resident chooses, it is uniquely their own, providing an important means for them to express their individuality.
There are many ways in which personalized transmitters can facilitate improved care. For example, says Jared Pitney, RFT's vice president of senior living, "In memory care units, staff will often place a photo or memory box outside the resident's door as a way of helping them find their way 'home.' By placing that same photo on our CODE WATCH transmitter, we can turn what some used to consider a stigma into a helpful tool – all while protecting the resident from wandering into an unsafe place. RFT is excited for CODE WATCH to help reduce risk for residents and staff, while fitting seamlessly into the resident's life."
With 30 years of experience and numerous product firsts in senior living safety and security solutions, RF Technologies remains future-focused to improve safety and mobility while enriching the lives of senior living residents. Customers wishing to take advantage of CODE WATCH customization can contact their RFT sales representative or call the company Customer Care at 1-800-669-9946, Option 3.
About RF Technologies
RF Technologies protects our most vulnerable family members at over 10,000 senior living and healthcare facilities nationwide. Life safety solutions such as CODE ALERT® Wander Management, QUICK RESPONSE® Wireless Nurse Call and SAFE PLACE® Infant Security blend help staff reduce risk for residents and the facility; while innovations such as RFT CARES® smartphone application improve caregiver coordination and efficiency. Backed by 30 years of experience in senior living, RF Technologies' solutions are UL-certified to meet today's life safety standards. For more information visit: http://www.rft.com.