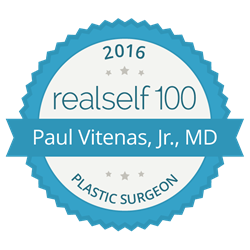 Houston, TX (PRWEB) March 30, 2017
Vitenas Cosmetic Surgery is proud to announce that its founder, Paul Vitenas, M.D., F.A.C.S., has been named as one of 2017's RealSelf 100. This marks the fourth time that the Houston-based surgeon has earned a top spot with the RealSelf community.
Founded in 2006, RealSelf has emerged as the Internet's most valued online source of cosmetic and aesthetic surgery information. In 2016, the site had more than 82 million unique views. The consumer-friendly site features a substantial trove of before/after photographs, patient reviews and, most useful, doctor Q&As. Here, a huge number of specialists come together, from a variety of cosmetic and aesthetic backgrounds, working together to answer patient questions on the website. However, last year, the RealSelf 100 provided 25% of the total responses given to more than half a million patient inquiries.
To express their gratitude to the participating doctors, every year RealSelf releases its list of the 100 most involved aesthetic professionals. These doctors provide hours of free advice and extensive information to patients around the world. This influential social media presence involves directly answering consumer questions and responding to concerns about aesthetic procedures, from plastic surgery to noninvasive techniques and cosmetic dentistry. In total, the RealSelf 100 spent more than 10,000 hours collectively engaging with patients on the site last year.
"The RealSelf 100 represents an exclusive group of doctors who embody both excellent patient service and an ongoing commitment to educating consumers shopping in the aesthetics market," said Tom Seery, Founder and CEO of RealSelf. "Our research shows that more than 95 percent of patients expect a practice to engage with them online. These doctors are leading the way in terms of their online engagement and focus on empowering patients with good information."
As a trusted plastic surgeon, Dr. Vitenas takes the responsibility of educating and guiding potential patients very seriously. He has been consecutively named as part of the RealSelf 100 for good reason, as Dr. Vitenas is makes it a top priority to remain an expert contributor on the website. To date, Dr. Vitenas has posted over 2,000 answers to patient questions. He can also boast more than 100 exemplary patient reviews, and to date, has greater than 121,000 profile views.
Dr. Vitenas is board certified by the American Board of Plastic Surgery. Over his almost 30 years of practice, Dr. Vitenas has developed his own, cutting-edge techniques for safe and satisfying procedures. Along with his private practice, Dr. Vitenas is also the medical director of the adjacent Mirror Mirror Beauty Boutique, specializing in noninvasive techniques, as well as the Houston Surgery Center.
Vitenas Cosmetic Surgery is located on the corner of Richmond Avenue and Drexel Street, close to Houston's exclusive Highland Village shopping and dining district. Those interested in learning more about the variety of surgical and noninvasive aesthetic procedures available at Vitenas Cosmetic Surgery can call the office at 281.484.0088, or fill out the online Contact Us form. Consultations with Dr. Vitenas are always complimentary.
Go to RealSelf to see the full list of RealSelf 100 Award winners, or to read more on the top doctors.