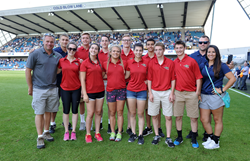 There's not another international program like this at all where you get trained like footballers, but then you give back to the local community.
Amherst, Massachusetts (PRWEB) March 31, 2017
Youth Futures International (YFI) premiered its unique Leadership Through Sportsmanship program in 2016 and had great success and feedback from its first squad of "YFI Senators" who traveled to London to learn important lessons in soccer and leadership, both on and off the field. Because of that success in 2016 and because interest continues to resonate with youth soccer players, YFI will again host its Leadership Through Sportsmanship program July 29-August 14, 2017 in London for high school boys and girls varsity soccer players.
The Leadership Through Sportsmanship program was founded as a response to a growing negative spotlight in sports as demonstrated by stories of athletes behaving badly on and off the field, coaches who mistreat athletes, and those who support athletes by demanding too much of them.
Soccer was a natural fit to launch YFI's first sports program due to having established relationships with two professional soccer teams in London: Queens Park Rangers and Millwall Football Club. Both teams participate by providing professional coaching to YFI's athletes at their facilities, classes in nutrition, health maintenance, introduction to sports-related careers, etc.
It is the value of leadership, however, that makes this soccer program stand uniquely apart from others. Leadership is taught not only in how the game is played, but in the spirit of providing leadership to the community off the field, whether coaching young at-risk children, playing soccer with youth in recovery and rehabilitation, and working with those with developmental disabilities. Squad members also leave the program with an accredited FA (Football Association) Level One Certificate for coaching football (soccer). "There's not another international program like this at all where you get trained like footballers, but then you give back to the local community," said Danny Edwards, College Football Academy Director for Queens Park Rangers.
In addition to being varsity level high school soccer players, YFI requires all athletes who apply to have a GPA of 3.0 or higher (or equivalent) and obtain a recommendation by their high school coach. YFI also limits the number of each soccer position accepted into the program as it puts together its 2017 squad of a maximum of 60 boys and girls soccer players.
"When I signed up for the trip I was a senior in high school looking forward to that transition to the first year of college I'm in now. I definitely felt like YFI got me in soccer shape and got me soccer ready with skills. Having better touches on the ball when I came in really helped show to my coach that I was ready for the college experience," said Kaylin Goncalves, a freshman soccer player at Nichols College in Massachusetts and 2016 participant.
Youth Futures International is a 501(c)(3) non-profit organization based in Amherst, Massachusetts and was founded by executive director David Butler. From its original purpose of providing summer camp programs to youth with HIV/AIDS in 1994, YFI changed focus in 2009 by creating its "Serve, Learn, & Empower" program in Ghana, Africa. Since 2009, YFI has hosted and developed unique international service-oriented and educational opportunities for high school and/or college students and has programs operating in Ghana, India, and the U.K. during summer 2017. YFI also partners with schools in Massachusetts, around the U.S., and around the world as it brings its unique message of inspiring students to become young global leaders.
"Youth Futures International has a goal of maximizing young people's potential to become future global leaders," said David Butler. "Students come to YFI having a wide range of passion and interests in various and very important world issues and we're able to provide those students with an arena to apply themselves as young leaders in our host communities. Our name clearly represents our dedication to youth, not only in the United States, but from around the world."
Learn more about YFI's Leadership Through Sportsmanship program by visiting http://www.YFIsports.org and YFI's other programs at http://www.YFIexperience.org. Enrollments are being accepted right now for all YFI programs.
Contact: Dave Butler
Tel: +1 (413) 658-0224 ext. 101
Follow Us
Facebook: http://www.facebook.com/YouthFuturesInternational
Twitter: http://www.twitter.com/YouthFuturesInt
Instagram: http://www.instagram.com/youthfuturesinternational