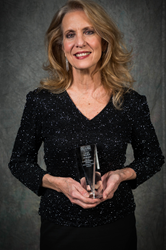 CHICAGO (PRWEB) April 01, 2017
Patti Zurla has been honored as 2016 Manager of the Year by the RE/MAX Northern Illinois real estate network. She manages RE/MAX Advantage Realty in Antioch, Ill.
In presenting the award during the 40th Annual RE/MAX Awards Ceremony at Navy Pier, Zurla was cited for both her skill at handling a wide range of duties, from recruiting, training and counseling brokers to organizing office events and dealing with the public, as well as her active engagement with her community and profession.
Zurla, an Antioch resident, volunteers her time, effort and resources for such causes as Soldiers' Angels, Children's Miracle Network Hospitals and a local cat rescue program. She also volunteers for an annual Thanksgiving program, sponsored by Gurnee Community Church, that provides food and supplies to recruits at Great Lakes Naval Station.
Licensed as an agent in both Illinois and Wisconsin, she has been an active member of real estate trade organizations in both states, and was named 2013 Realtor of the Year by the Lakes Area Realtors® Association of southeastern Wisconsin.
A real estate agent since 1988, Zurla joined RE/MAX Advantage Realty in 1996 and was named manager in 2001 by Broker/Owner Larry Fales although her elevation to that position came as shock to Zurla.
"We were in a meeting with a local lender when Larry suddenly announced that I would be his new manager though he'd never discussed it with me," Zurla recalled. "I was both surprised and delighted. We worked out the details later, and it has turned out beautifully, but that was one of the more unusual moments in my real estate career."
Her willingness to lend a hand whenever needed has earned her the office nickname of "Mama Z," and it captures a basic aspect of her personality.
"I find a special satisfaction in helping people," Zurla confessed. "When I see someone with a problem, my reaction is to ask, 'What do you need?'"
RE/MAX agents consistently rank among the most productive in the industry. In 2015, RE/MAX Northern Illinois agents averaged 18 transaction sides. RE/MAX has been the leader in the northern Illinois real estate market since 1989 and is continually growing. The RE/MAX Northern Illinois network, with headquarters in Elgin, Ill., consists of more than 2,250 sales associates and 103 independently owned and operated RE/MAX offices that provide a full range of residential and commercial brokerage services. Its mobile real estate app, available for download at http://www.illinoisproperty.com, provides comprehensive information about residential and commercial property for sale in the region. The northern Illinois network is part of RE/MAX, a global real estate organization with 110,000+ sales associates in 100+ nations.
####
EDITOR'S NOTE: RE/MAX® is a registered trademark. Please spell in all caps. Thank you. This release is posted at blog.illinoisproperty.com.