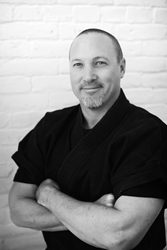 Leadership, much like martial arts, requires us to submit to an all-encompassing process, or journey. It starts with our innate abilities, and transforms us as we move along the path from doing to being. Scott Alexander
Frederick, MD (PRWEB) April 03, 2017
Leadership and martial arts expert Scott Alexander, will be the guest on the April 11 Talent Talk http://www.octalkradio.net/Pages/TalentTalk.aspx show with Chris Dyer.
The Scott Alexander interview can be accessed live and free of charge on Tuesday, April 11 at 1:00 pm (PT). http://tun.in/seMR6
CEO Chris Dyer from PeopleG2 will be discussing with Alexander what it means to lead like a Black Belt. They will also cover the topics of middle managers benefiting from a leadership mindset and what are entrepreneurs getting wrong about being a leader? (Plus so much more during the broadcast.)
Alexander is an author, entrepreneur, leader, coach and teacher who works with individuals and organizations to improve their impact. He is adept at engaging people (and organizations) where they are and pushing them to the next level of performance. With a master's degree in psychology from Boston College, he honed his skills as a leader working in both large and small organizations in C-level positions for over 20 years.
A 5th Degree Black Belt and the author of Lead Like a Black Belt ™, http://www.scottmalexander.com/the-book/ Alexander's insights as an accomplished master martial artist and instructor cast leadership in a new light. The result is that people can take concrete, tactical and yes, philosophical steps to become better leaders in their workplaces, communities, and families.
Scott draws on his experiences in business and martial arts to challenge people and organizations to be principle-driven in order to be more successful.
On April 21, the show will be published to the show's podcast site on iTunes and iHeart Radio. http://www.talenttalkradio.com/feed/ Talent Talk podcasts have over 10,000 people who daily download.
To receive the Lead Like a Black Belt newsletter sign up here http://www.scottmalexander.com/contact/ and also connect with Alexander for a personalized info session to gauge your leadership quotient and next steps to becoming a better leader.
https://twitter.com/likeablackbelt
https://www.linkedin.com/in/scott-alexander-2b935810/
https://www.facebook.com/LeadLikeaBlackBelt
##
For more information, contact Nancy Valent at 216-513-8740 or nancy(at)NMVstrategies.com