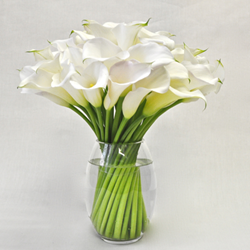 Our clients are modern people leading busy lives. They come to us for the best high-end flowers delivered in New York City and they want the online shopping experience to be fast and efficient.
New York, New York (PRWEB) March 31, 2017
Local New York City Luxury Florist Gabriela Wakeham Floral Design today announced completion of its fully enhanced online category offering. The goal is to improve the ease and speed of digital shopping for high-end flowers delivered in New York City. Each of the 24 categories on https://www.gabrielawakeham.com now offers a broad selection of flower arrangements for business needs and personal occasions. The individual categories from which online visitors can shop now include as many as 45 unique floral arrangements exclusive to Gabriela Wakeham.
Now instead of needing to toggle among several pages to view a large assortment of luxury flowers delivered in Manhattan, online shoppers can select an individual category for a fast sort with a significant selection.
Top Occasions for NYC Luxury Flower Delivery Include
Thank You, Congratulations, Birthday, Get Well and Sympathy
Among the places where the broader product offering will be most noticeable include the highly visited NYC flower delivery categories of thank you, birthday, sympathy, congratulations and get well. A key priority in creating the larger product selections for faster, easier shopping is to include modern flower arrangements alongside classic choices. Gabriela Wakeham's design signature is decidedly contemporary. Bringing modern arrangements to the forefront is central to the company's mission. But at the same time there are classic looking top-rated luxury flowers delivered in Manhattan as well.
When placing online orders for flower delivery in New York City, clients will continue to have options for same-day and next-day service.As a high-end local florist in Manhattan, service territory includes all neighborhoods as far north as 135th Street. In addition, luxury flowers are delivered to Williamsburg, Long Island City, Dumbo, Brooklyn Heights and Astoria. Same-day orders for weekday delivery are accepted each day until 12 noon. This includes the full offering of premium floral arrangements as well as custom designs. All flowers are delivered by hand and travel in climate controlled vans.
High-End Orchids, Calla Lilies, Peonies, Roses and Seasonal Flowers in Expanded Categories;
New High-End Floral Arrangements Delivered in New York City
With a strong preference for responsibly and sustainably grown flowers, Gabriela Wakeham has a buy-on-demand philosophy to assure its clients of maximum freshness. All blooms are purchased from suppliers only after orders are received. The company specializes in luxury orchids, calla lilies, peonies, roses and the finest seasonal flowers. All arrangements are hand crafted by senior floral designers in small batches. It is an artisanal approach that is design driven and results in distinctive high-end flowers delivered in NYC. The company operates as an independent local florist in Manhattan.
Some competitors strive to become bigger, or limit their clients to certain blooms in repetitious designs. Instead, Gabriela Wakeham is a true master florist in Manhattan delivering flowers in both modern and classic aesthetics. It proudly works with all blossoms – roses, peonies, orchids, calla lilies, orchids, tulips, hyacinths, anemones, dahlias and many others. These are hand arranged in with virtually unlimited options and offered as flowers delivered for gifts including thank you, congratulations, birthday, anniversary, romance, get well, sympathy and many others.
Business Flower Delivery in NYC is Among Newly Expanded Category Offerings
As well as Luxury Flowers Delivered Weekly in Manhattan for Business
The time-saving value of the newly expanded online flower shopping categories is highly evident in the area of business flower delivery in New York City. For business people time is money and a fast, efficient digital ordering experience is of increased importance. With an emphasis on modern white flowers, the expanded business flower category has a range of choices spanning both modern and classic design aesthetics. It focuses on high-end orchids, calla lilies, peonies and seasonal flowers. All are appropriate to be sent in behalf of individuals or groups and are high-end flowers suitable for VIPs and executives.
Another business category significantly expanded is weekly flower delivery in NYC. This includes corporate floral service and weekly deliveries to designer flagship stores, offices, lobbies, reception areas, hotels, restaurants and major cultural institutions. While the offering has been expanded for the business portion of weekly flower delivery in Manhattan, Gabriela Wakeham also offers residential service. The company's online collection can be used as an initial catalog of choices, all customizable to harmonies with specific interior design styles.
NYC Flower Delivery Selection also Expanded in Special Occasion Categories
Including Administrative Professionals Appreciation Day, Mother's Day, Valentine's Day
The category product selection enhancements also make an easier, faster online shopping experience for special occasion flower delivery in New York City. Among the expanded pages are those covering floral arrangements delivered for Administrative Professionals Appreciation Day, Mother's Day and Valentine's Day. The broader special occasion product offerings are also aware of the seasons, accenting blooms that are at their peaks around the special occasion dates. The modern and classic options offered are equally appropriate for loved ones, family members and valued business colleagues.
Clients are encouraged to place NYC flower delivery orders for special occasions and holidays earlier than normal. Orders received in advance can be given priority for earlier drop-offs on the days themselves. Especially for Valentine rose delivery in Manhattan quantities of specific colors and styles may be limited. On other special occasions such as Administrative Professionals Appreciation Day and Mother's Day, spring is in full swing and the broadest possible selection of high-end flowers delivered in Manhattan is available. The range of colors is limitless from soft pastels to bold and brightest.
A Local Master Florist Delivering in New York City
Now with a Faster, Easier Online Shopping Experience
Gabriela Wakeham is a high-end local florist delivering in New York City. Founded in Tribeca in 2009, it today delivers luxury flowers in Manhattan as far north as 135th Street, as well as to Williamsburg. Long Island City, Dumbo, Astoria and Brooklyn Heights. While the currently service territory has been expanded significantly, the company continues to place an emphasis on its original downtown neighborhoods. It specializes in flower delivery to Tribeca, Soho, Hudson Square, Wall Street, lower Manhattan and Battery Park City. With approximately 75 exclusive floral arrangements featured on its website, Gabriela Wakeham is a leading boutique florist in New York City.