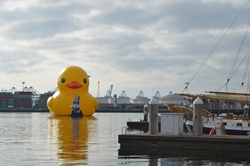 Coos Bay, Oregon & Tacoma, Washington (PRWEB) March 31, 2017
On June 1-4, 2017, behind the slipstream of the 61 ft. tall, 11-ton World's Largest Rubber Duck, the awe-inspiring historic ships will gallantly sail into port at The Mill Casino in North Bend, Oregon for Festival of Sail Coos Bay.
Two weeks later further up the coast on June 15-18, Festival of Sail Tacoma will commence. Both festivals will not only boast an impressive number of historic ships, but will break records for being the largest ever events in their respective regions. Coos Bay, along with Tacoma, will be the only two Pacific ports that will host the historic ships.
These unique festivals offer up a rare chance to catch a glimpse, step aboard and even set sail on some of the grandest ships of yore. Both festivals will be comprised of four day celebrations that will include a large fleet of historic ships with ticket prices ranging from $9-$150. Eight historic ships will be attending Coos Bay with featured ships that include Bill of Rights, Schooner Freda B, Lady Washington, Hawaiian Chieftain and Dirigo II. A whopping 20 ships will appear on the shores of Tacoma with featured vessels that include Bill of Rights, Spike Africa, Virginia V, Schooner Freda B, Hawaiian Chieftain and Lady Washington.
Along with on board tours and day sails at both events, additional exciting activities will include live music, entertainment, locally curated craft beer, educational programming, local food and fun for the entire family.
Accompanying the myriad of exciting activities at Festival of Sail Tacoma will be a performance by the legendary Tacoma Symphony Orchestra.
For more information and to purchase tickets, please visit http://www.festofsail.com.
Downloadable high resolution photos can be found here.