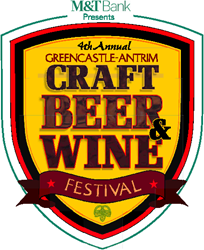 At least 50 different craft brews and at least six different wineries will be on site.
Greencastle PA (PRWEB) March 31, 2017
The Franklin County Visitors Bureau recommends marking April 15, 2017 for the fourth annual Craft Beer and Wine Festival, hosted by the Greencastle-Antrim Chamber of Commerce. The event will be held on the grounds of the Antrim Way Honda parking lot on Route 11 in Greencastle. Sponsored by M&T Bank, this festival attracts hundreds, eager to enjoy spring after a long winter, listen to some great music, eat some great food and sample an unlimited amount of craft beers and local wines.
The event is open to adults 21 and over, and will feature at least 50 different craft brews from national distributors as well as some local favorites from Roy Pitz Brewery, and the new Cushwa Brewery in Williamsport, MD. At least six different wineries will also be on site, sampling and selling local wines including Chambersburg favorite, Jan Zell Wines.
Tickets are $25.00 per person and are available for purchase online at Xorbia.com or through the Chamber office during regular business hours or at the John Allison Public House. Purchasing tickets online allows for one hour early entry, allowing participants to enter at noon instead of 1 PM. The festival will end at 4 PM.
In addition to main sponsor M&T, the band Still Clear is sponsored by F&M Trust. Still Clear characterizes itself as a southern rock band and will play for the duration of the event. Each participant will receive a 5-ounce pilsner style mug sponsored by Quad State Air and a map of the festival sponsored by Herald Mail Media.
The John Allison Public House will provide a menu of BBQ, French fries, nachos, and other festival foods as well as fruit and cheese plate to pair with the wines.
New this year will be a photo booth courtesy of R.S. Entertainment, and some new games of chance including a money wheel and Plinko. Wine lovers will also have the opportunity to purchase bottles of wine on site and enjoy them while listening to the band and socializing with friends.
Chamber Executive Director Georgina Cranston says, "The end result we hope is that this event builds a long-term relationship with people who come to town for events we offer, who bring positive energy and find reasons to come back again and again. By engaging the community in new and different ways, and appealing to a variety of tastes and hobbies, the Chamber fulfills its mission of promoting member prosperity through economic well-being and community vitality."
The Franklin County Visitors Bureau invites all to explore Franklin County PA and enjoy the trails of history, arts and architecture, recreation, natural beauty, fresh foods and the warm hospitality of communities like Chambersburg, Greencastle, Mercersburg, Shippensburg, and Waynesboro. Franklin County PA is located just north of the Mason Dixon Line and is an easy drive to Washington DC, Philadelphia, and Pittsburgh. Discover more. Plan a visit soon at ExploreFranklinCountyPA.com or by contacting 866.646.8060.