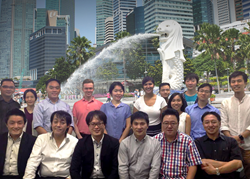 USER has served dozens of companies including the Singapore government, MNC, and SME since 2010
(PRWEB) April 03, 2017
User Experience Researchers (USER), the leading IT Solutions in Singapore, today announced the expansion of their strategic IT services to strengthen their collaborative projects in Asia Pacific. With the rapidly increasing of digital marketing and mobile app development demands, User Experience covers digital marketing and mobile services required for every business, including SEO services, Social Media Marketing, ASO, iOS app design, Android app development, and Web app development.
As part of the new IT services expansion, the User Experience Researchers will reach millions of people through creative digital marketing strategies. "User Experience Researcher is enormously increasing in the Asia Pacific region, we are the first local UX agency providing complete business IT services that gives firms the pliability to serve a variety of markets. The company especially helps the western companies who want to open a market in China. USER has served dozens of companies including the Singapore government, MNC, and SME since 2010," Frank Qiu, User Experience Researcher's founder, and CEO said.
"Over the years, USER has developed an unparalleled IT solution provider in Singapore and user research China. Team members are very excited about the opportunity to provide clients with result-oriented services. While USER is extremely proud about receiving awards and recognition for productivity, perseverance, and hard work, USER has never lost sight of its main goal: aligning creative efforts to match clients' strategic business objectives," Frank added.
Digital marketing and Mobile app development are the most important part of IT solutions for a firm in Singapore. USER always looks for ways to enhance clients' convenience by providing more services that help strengthen clients' brands and evolve their businesses.
USER is a recognized leader in IT solutions for utilizing user experience on both the web and mobile APP technology. Combined with industry knowledge and business process advisory services with cutting edge user experience and design to help clients harness the benefits of mobile across their enterprise, USER has spent their fruitful success working with high profile clients like Microsoft, Paypal, SingTel, StarHub, Nanyang Technological University, IRAS and much more.
User Experience Researchers set out with the goal to create a results-driven branding, website design, and development, and integrated marketing campaigns that combine inbound marketing paid advertising and social media that matches their clients' needs.
The company has continually expanded their IT solutions and services globally. Today, User Experience Researchers provides digital marketing for clients in various industries. Their clients entrust them with their branding, search marketing, mobile app, web development and digital marketing needs.
Continuing its feat of excelling in effective digital marketing solutions, User Experience Researchers is working closely with hundreds of businesses, which from start-up to executive enterprises to leverage their full sales potential and ensures their success.
About User Experience Researchers
User Experience Researchers is the first local UX agency in Singapore to provide user experience research built up by a group of Ph.D. holders from National University Singapore and Nanyang Technology University. User Experience Researchers is the leading IT solution provider in Asia Pacific located in Singapore developing innovative solutions and optimizing the user experiences for APPs, websites, retail stores and so on.
User Experience Researchers is the leading company in Singapore which focus on the western culture and eastern culture differences to provide business solutions including UI & UX design, UX research, web development, web design, e-commerce sites, mobile app development, and digital marketing.