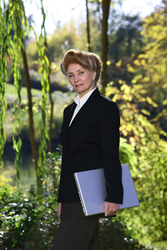 Grants Pass, OR (PRWEB) March 31, 2017
On the air recently, Sharon Kleyne, host of the nationally syndicated radio program, The Sharon Kleyne Hour Power of Water, Global Climate Change and Your Health on Voice of America, has talked a lot about the upcoming World Water Day (March 22nd) and the opportunity it affords all of us to look closely at new water research and the history of water in public health.
It was to this end that Kleyne noted the death anniversary of John L. Leal, the doctor and sanitary advisor who led the fight against typhoid fever in the early decades of the twentieth century. Next, Kleyne shared the irony that Leal's great inspiration, Dr. John Snow, died of a stroke on June 16, 1858, just 42 days after Leal's birth.
In both of their lifetimes, Kleyne pointed out, the spread of many deadly diseases was blamed on airborne carriers. This was the popular Miasma Theory. "Billions of people believed in the Miasma Theory," said Kleyne, "and they were all wrong." It was Dr. Snow who developed the revolutionary belief that water, not air, was the culprit. With this in mind, he himself only ever drank boiled water or distilled water; he also believed in drinking lots of it.
Snow gained his greatest notoriety when he solved the cause of the Cholera epidemic in London's Golden Square neighborhood. He deduced that the disease originated with tainted water from the Broad Street pump in 1854. More than 500 people in this neighborhood had already died as a result of this epidemic by the time Snow convinced the commissioners to remove the pump handle. With the well shut down, the deaths by cholera ceased instantly. Yet it would be ten more years before maintenance workers discovered that the well had been tainted by a faulty sewer wall nearby. Yes, foul water triggered a cholera epidemic. Snow also became a vocal speaker against the practice of dumping raw sewage into natural waterways. "Snow argued that it perpetuated the death spiral of cholera," Kleyne said. John L. Leal would eventually embrace Snow's teaching and further develop his theories.
Sharon Kleyne closed with a cautionary tale, noting that if Snow's discoveries had been accepted in his time by engineers, sewer planners and drinking water providers, millions of deaths would have been avoided. "Snow, whose birthday we celebrate on March 15th, was a visionary," Kleyne said, "and I wonder how many lives we're losing today because we're ignoring new water research and technology that would improve life on this planet."