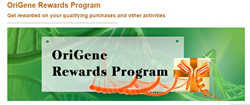 The Zinrelo loyalty rewards program has delivered enhanced customer retention very quickly. It integrated easily into our existing website and generated impressive results. - April Huang, Sr. Director, Digital Marketing & eCommerce at OriGene Technologies
Sunnyvale, CA (PRWEB) April 04, 2017
Zinrelo's modern day loyalty rewards program is enabling gene-centric life sciences company OriGene Technologies, Inc. to maximize customer engagement, retention and revenue per user.
OriGene's novel product line includes the world's largest cDNA collections, human proteins, and antibodies. With the launch of the 'OriGene Rewards Program', the company has seen a 34% increase in Average Order Value (AOV) for loyalty users. Taking into account the repeat purchases, revenue per customer rate for loyalty members is 45% higher as that of non-loyalty users.
The OriGene Rewards Program drives customer retention by rewarding customers with loyalty points for account creation, making purchases on the website and for writing product reviews. It rewards customers with 1 point for every $1 spend for online purchases. Writing a product review earns 1,000 points to customers. Additionally, a 500 point starting bonus is awarded to existing customers, while new customers receive the same reward for creating an online account. Loyalty rewards program members can redeem their loyalty points to pay for future purchases on the website or for an Amazon gift card.
"The Zinrelo loyalty rewards program has delivered enhanced customer retention very quickly," stated April Huang, Sr. Director, Digital Marketing and eCommerce at OriGene Technologies. "We wanted to increase the order size along with per-customer revenue and at the same time reward our customers for their engagement. Zinrelo's easy-to-integrate, 360-degree loyalty rewards program was the perfect solution. It integrated easily into our existing website and generated impressive results almost immediately."
The user friendly design of Zinrelo's loyalty rewards program has created a customizable solution that maximizes customer engagement, retention and revenue for the companies that use it. The program requires no complex integration with existing websites, so it is an 'off the shelf' solution for businesses looking to quickly implement a 360-degree program that enhances customer engagement and retention.
Companies can use the omni-channel Zinrelo loyalty rewards program to reward their customers not only for purchases, but also for referrals, account creation, email signups, photo sharing, reviews, social advocacy, and more. These reward activities are fully customizable, as are the loyalty tiers and redemption options, with the program supporting desktop, mobile (web and app), and in-store (point of sale) use.
"Our clients are thriving contemporary businesses and need a modern-day loyalty reward program that maximizes customer engagement and revenue," commented Samir Palnitkar, Founder at Zinrelo. "For us, the key is to deliver results quickly, enhancing customer retention for our clients with a seamless, 360-degree solution. For OriGene Technologies, the Zinrelo loyalty rewards program is already achieving impressive results and delivering more loyal, engaged and repeat customers."
About OriGene:
OriGene Technologies, Inc. is a gene-centric life sciences company dedicated to supporting academic, diagnostic, pharmaceutical and biotech companies in their research of gene functions and drug discovery. OriGene's novel product line includes the world's largest cDNA and shRNA clone collections, ready-to-use Lenti particles, over 12,000 purified human proteins produced from mammalian (HEK293) cells, over 50,000 high quality primary antibodies including TrueMAB™ mouse monoclonal antibodies and polyclonal antibodies made against full-length proteins for the conservation of native epitopes, validated "mono-specific" monoclonal antibodies called UltraMAB®, which offer a unique solution to the critical issue of antibody specificity, >140,000 highly validated human tissues, and protein microarray products and services. For more information, visit http://www.origene.com.
About Zinrelo:
Zinrelo brings you the world's best loyalty rewards and referral programs, helping to maximize revenue per customer and new customer acquisition through 360-degree customer engagement. It supports omni-channel interactions including desktop web, mobile web, mobile apps and in-store engagements.
Zinrelo loyalty rewards program boosts per-customer revenue by 2.4 times and repeat purchases by 80%. It creates fiercely loyal customers that are rewarded for all forms of engagements including purchases, social advocacy, reviews, sign-ups, referrals, photo sharing and more. It is fully customizable and is easy to deploy. Zinrelo referral program delivers a 25% uplift in new customer acquisition by converting your customers into brand ambassadors.
To zing your loyalty and referral programs, contact Zinrelo at http://www.zinrelo.com or info(at)zinrelo(dot)com