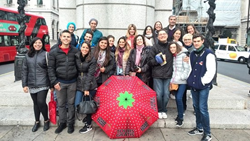 The Free Tour model, just like any other business models that have challenged the old tired ways (Uber, Airbnb) has caused much disruption and controversy with the old guard.
London (PRWEB UK) 31 March 2017
The tourism industry has earned through the past three decades a reputation for cutting corners. The term tourism has been so polluted that people will use it to describe an overpriced mediocre experience. "You don't want to go there, it's touristy", seasoned travelers will say to dissociate from mainstream tourism. However, tourism began as a quest to gain human knowledge, such was the nature of the "Grand Tour" of 17th and 18th centuries. Had Sir Christopher Wren not traveled to Italy, he could never have designed St. Paul's Cathedral. Somewhere between then and now the tourism industry became short sighted and focused more on making a quick pound through any means of superficial entertainment, than on gaining a deeper understanding of the different expressions of the human experience.
In that scenario the eruption of Free Tours has brought some much-needed fresh air to the industry. The way the model works is that you offer a great quality tour to anybody who comes. Giving a donation at the end of the tour, which is of course welcome, is emphatically optional. What that means is that everyone, absolutely everyone, regardless their budget, has access to a great tour. The model ensures good quality, as if the tour is not satisfactory people will leave and the guide won't earn anything. It is a common misconception to think that guides give a portion of their earnings to the company. Guides are self-employed, they pay the company for a service which is providing them with clients. This enables a potential money earning situation, hence the payment being known as a marketing fee, which is independent of their earnings.
Strawberry Tours is very proud of the work they are able to do. They offer people the true London experience through the eyes of a local; or an expat who has, after falling in love with the city, decided to live in London. They help guides develop their tours according to their interests so that they can excel at what they do. Strawberry Tours provides tours which are not condescending towards clients, but try to make sense of the city: where it has come from, where it is, and where it could be going. All Strawberry Tours guides feel proud of their tours which are unique. And on top of that, offer them to everyone, from poor young backpackers who show their gratitude with a hug, to middle aged weekenders who show their gratitude with great generosity in the form of purple and even red paper money. And the best thing about it is that people are loving it! With over three thousand reviews on TripAdvisor averaging over 4.9 out of 5. It is hard to find such widespread approval not only within the industry, but in any other field.
The Free Tour model, just like any other business models that have challenged the old tired ways (Uber, Airbnb) has caused much disruption and controversy with the old guard. Change is always unwelcomed by those who are comfortably established. However, client satisfaction speaks for itself, and it is through this model that we are enabled to realize what we are set to do: build bridges between cultures and bring back tourism to its essence. Understanding tourism as an activity that enriches people's lives and brings different cultures together. An activity that highlights all those eccentricities that make a culture unique, yet sheds light into that common ground that makes us humans, regardless which end of the globe we have inhabited. Now it's hard to see how that could be a con!
Strawberry Tours therefore welcomes the ASA new guidelines as they will stop others harming this model that we so love. In terms of how we operate nothing really needs to change, as one of the prerequisites that are given to guides is to never be pushy about tips. The aim is for customers to feel happy and at ease, and have found that when the jobs well done customers are more than happy to contribute. So, anything that protects our customers, and our reputation is good with us.