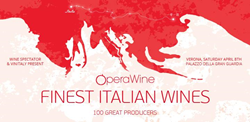 Vinitaly International is all about connecting the dots
(PRWEB) March 31, 2017
On Saturday 8 April, Vinitaly's signature event OperaWine is back in the heart of Verona's city centre in the beautiful Palazzo della Gran Guardia in Piazza Brà. This sixth edition will feature a magnificent showcase of the finest Italian wines across all regions with 104 of their producers, including also +40 new entries, both a testament to OperaWine's consolidated success and to the thriving Italian wine sector. OperaWine's 2017 theme, the Silk Road, pays homage to economic and cultural ties between Italy and China. OperaWine will also celebrate Vinitaly International's recent partnership with 1919, the Chinese leaders for O2O liquor distribution, since a delegation from 1919 including its Founder Bob Yang and the General Manager of 1919's purchasing subsidiary "Shanghai 1919 Global procurement CO. LTD" Andrew Tan will also be attending.
OperaWine is organized by Vinitaly International in collaboration with Veronafiere, Vinitaly and Wine Spectator. It is the first event that Wine Spectator decided to co-host outside the United States. In a similar way to its New York Wine Experience event, Wine Spectator is responsible for the selection of influential producers. However, at OperaWine, the selected wines are not solely competition winners, but also are also particularly significant for their territory and for the American market.
OperaWine's commitment to promote and communicate Italian wine combines the attention to the local with a global outlook. The Silk Road theme celebrates Italian connections with China, following the recent success of the Vinitaly International's event in Chengdu, where Italian producers showcased their wines at the International Wine and Spirits Show. The Silk Road was a caravan route, which connected the ancient European empires with China for the silk trade for centuries, promoting commercial and cultural exchanges. As is well known, the Venetian merchant Marco Polo also travelled along this route in the 13th century. In the 21st century, the so-called New Silk Road is a priority for China's foreign policy and for Chinese president Xi Jinping. The One Belt, One Road project aims to foster economic and cultural connections between peoples and countries in four different continents through economic investments and bilateral exchanges. Italy's interest in China was also stressed during the official visit of president Sergio Mattarella to China last February and in a recent art exhibition mounted at the Quirinale Palace in Rome entitled "From the Old to the New Silk Road."
Hence, China is in both Italy's and Vinitaly International's agendas. Stevie Kim, Managing Director of Vinitaly International, comments about OperaWine's global outlook: "Vinitaly International is all about connecting the dots. As Steve Jobs once said 'You can't connect the dots looking forward; you can only connect them looking backwards. So you have to trust that the dots will somehow connect in your future.' With OperaWine, we continue to keep our focus on the American wine market, but also entrust the US market experience to strengthen Italian wine in China. Even if this is only a small 'dot' at the moment, we are hopeful that it will become very important in the future."
On April 8th, OperaWine will commence at 11:30am with the press confer-ence followed by the annual group picture. 1919 founder Bob Yang and manager Andrew Tan will also speak at the press conference. After lunch at 2:45pm the Opening Ceremony will kick off the Grand Tasting from 3:00pm to 6:00pm. During OperaWine, wine writer Monty Waldin will be recording a new series of Italian Wine Podcast, the new podcasting project dedicated to the uniqueness of the Italian wine tradition. The first series with interviews recorded during OperaWine 2016 is available on SoundCloud, iTunes, and Facebook.
In addition to the presence of the 1919 group at OperaWine, during Vinitaly on April 10th, 1919 manager Andrew Tan will join Italian wine producers and the press during an exclusive breakfast meeting organized at wine2digital, Vinitaly International's new headquarters. On April 12th, a Vinitaly International Academy seminar will also illuminate the distinctive features of Chinese wines from the Ning-xia region. In September, Vinitaly International will travel again to China to host VIA Certification Courses. In China, Vinitaly International will also participate to a popular B2C event, the Shanghai Wine and Dine Festival.
OperaWine is an event by invitation only. Vinitaly International would like to thank institutions, businesses, and sponsors, which continue to make OperaWine a premier event. A special mention goes to Electrolux Home Appliances, Asiago Formaggio D.O.P., Levoni Cold Cuts, Surgiva Mineral Water, and Be Board Fashion Men Sportswear.
About:
Veronafiere is the leading organizer of trade shows in Italy including Vinitaly (http://www.vinitaly.com), the largest wine and spirits fair in the world. During its 50th edition Vinitaly counted more than 4,100 exhibitors on a 100,000+ square meter area and 130,000 visitors from 140 different countries. The next edition of the fair will take place on 9 - 12 April 2017. The premier event to Vinitaly, OperaWine (http://www.operawine.it) "Finest Italian Wines: 100 Great Producers," will unite international wine professionals on April 8th in the heart of Verona, offering them the unique opportunity to discover and taste the wines of the 100 Best Italian Producers, as selected by Wine Spectator. Since 1998 Vinitaly International travels to sev-eral countries such as Russia, China, USA and Hong Kong thanks to its strategic arm abroad, Vinitaly International. In February 2014 Vinitaly International launched an educational project, the Vinitaly International Academy (VIA) with the aim of divulging and broadcasting the excellence and diversity of Italian wine around the globe. VIA this year launched the second edition of its Certification Course and to-day counts 55 Italian Wine Ambassadors and 6 Italian Wine Experts.