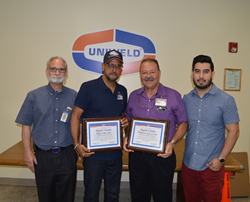 Quality Tools That Go To Work With You®
Fort Lauderdale, FL (PRWEB) March 31, 2017
Uniweld Products, Inc. located in Ft. Lauderdale, FL recently conducted its "Repair Training School" for one its Premier Distributors, Fuerza Industrial who is headquartered in San Juan, Puerto Rico. Fuerza Industrial operates 9 retail locations in Puerto Rico under the name of Empresas De Soldaduras. Wigberto de la Cruz, General Manager and Miguel Mercado, Repair Specialist attended the three day session on February 22-24, 2017 at the Uniweld Products, Inc. Training Center located at the factory in Ft. Lauderdale, Fl. Instructor for the School was Uniweld Engineering Manager, Dragan Bukur. Dragan was assisted by International Sales Executive Mario Portillo and Ray Blew, Vice President of Sales, Welding Division.
The "Repair School Training" provides an extensive education on the repair of Uniweld Products, Inc. complete line of Industrial Gas Apparatus. Centered on "Safety" the course consists of classroom instruction, practical application featuring a "Hands on Approach". This interactive method creates an environment which stimulates the attendee's understanding of the repair process of Uniweld's line of products. Uniweld's commitment to their distributors "Personal Certification" of the training builds the "Manufacturer's/Distributor's 100% Customer Satisfaction Goal" relationship.
Along with the Repair School Training the attendee's had the opportunity to interact with Uniweld's Engineering Managers, Customer Service Team Members and the Factory Operations Support Team. When asked about their experience of the Training, Wigberto de la Cruz advised: "I am so impressed how Uniweld manufactures in house all of the little things use to build their products!" Wigberto was referring to how Uniweld builds their own Pressure Gauges in house. The process includes the silk screening the dial faces, forming the plastic lens covers to building the complete internal mechanisms followed by assembly and final testing.
Since 1949 Uniweld Products, Inc has worked with Distributors to market their equipment Worldwide. Uniweld President, David Pearl II expressed his commitment to working with distributors like Fuerza Industrial who take the time to send their representatives to the factory to complete the necessary training to be an official "Authorized Repair Station" for Uniweld Products, Inc.