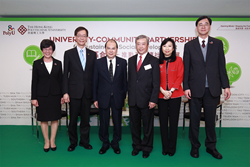 (PRWEB) April 06, 2017
The Hong Kong Polytechnic University (PolyU) organized the University-Community Partnerships for Sustainable Social Development Sharing Session yesterday (30 March 2017) to strengthen university-community collaborations for the sustainable development of the community.
The event was attended by over 100 participants from district councils, government departments, NGOs, education institutions and funding bodies for a fruitful exchange of ideas on university-community collaborations. Speakers of the sharing session were the Chief Secretary for Administration of the HKSAR Government Mr Matthew Cheung, President of Lee Hysan Foundation Ms Cecilia Ho, and Vice President (Student and Global Affairs) of PolyU, Prof. Angelina Yuen. They shared their insightful views on university-community partnerships from the government, philanthropic and university perspectives respectively.
Speaking at the sharing session, Mr Matthew Cheung said "Universities are closely linked to society. To strengthen the connection, we need full co-operation from various sectors of our community. With their support, a network can be developed to promote cross-sectoral collaboration and achieve a win-win situation that benefits all involved. Throughout this process, the Government will continue to facilitate the engagement of the community at different levels. We have also put in place various platforms for promoting cross-sectoral collaboration to enable the Government, industrial and commercial sectors, welfare sector and community organizations to jointly develop and strengthen our social network."
PolyU Council Chairman Mr Chan Tze-ching said in his welcoming remarks that the sustainable development of the society has been a core focus of our research, teaching and social service, and it has been included as one of our long-term strategic goals. He said, "With our research strength, our staff and students' commitment to serve, PolyU hopes to continue to work closely with various sectors of the community to help further promote the sustainable development of the society and meet new challenges for the benefit of the community."
PolyU President Prof. Timothy W. Tong said that PolyU is strongly committed to social responsibility and would further enhance its work in four areas, including Service-Learning, active ageing, social innovation and sustainable development. He said, "Universities through working closely together with different sectors of the community will create greater impact for the betterment of Hong Kong. PolyU will continue to extend its collaboration with community partners to identify projects and initiatives that meet the needs of the society and bring benefits to the community."
Apart from the sharing session, an Afternoon Talk Series was held on the same day where PolyU faculty members, alumni, students and NGO partners shared with participants their experience in community service. A three-day exhibition titled "Service-Learning in 18 Districts" is being held until 1 April to showcase the Service-Learning projects delivered by PolyU students and staff in the 18 Districts of Hong Kong.
*****
Press Contacts
Ms Irene Chan
Alumni Affairs and Development Office
Tel (852) 2766 4120