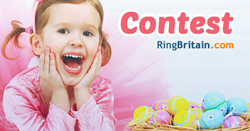 Atlanta, Georgia (PRWEB) April 02, 2017
On Easter, one great British tradition is the egg hunt. So, if the egg hunt is so popular, why not hunting for a prize for longer international calls to the United Kingdom? British expats are invited to a prize hunt on RingBritain's Facebook page. The mechanism is simple, as all customers have to do is share what they love the most about Easter and they enter automatically the raffle for $10 Voice Credit.
The prize can be used to call UK landlines for 1000 minutes, since the rate for international calls to landlines in the UK is 1¢/min or 340 minutes, if they call mobiles, the rate for international calls to mobiles in the UK being 2.9¢/minute. The contest is open until April 11 and the winner will be selected randomly.
The Voice Credit service RingBritain.com offers is friendly and easy to use, calls can be placed from:

any phone, through access numbers,
any computer, through the Web Call application, or
any smartphone, as RingBritain.com offers a free app, for both iOS and Android devices, called KeepCalling.
In addition to Voice Credit, RingBritain.com also offers Virtual Numbers that work as monthly subscriptions through which customers pay a low monthly fee and receive unlimited calls from another country. The people calling the Virtual Number only pay the rate of a local call.
Customers are happy both with the quality and with the prices offered by RingBritain.com. On Trustpilot, a review site, RingBritain.com has an excellent 9.3 rating. One customer writes, 'Using Ring Britain has made it very easy and very cheap to ring family in England, from Australia. I can call from my mobile direct to their landline or mobile and talk until we run out of stuff to say! Without keeping an eye on the cost. I'd say I ring uk at least twice a week, usually for about an hour at a time. The call quality is generally "excellent", and never worse than "very good" - I thoroughly recommend using Ring Britain.'
All RingBritain.com promotions and offers can be found on their Facebook page: Facebook.com/RingBritain.
About RingBritain.com
RingBritain.com is an interactive website designed by KeepCalling, a global telecommunications company registered in 2002 in USA. Presently, KeepCalling provides its services to hundreds of thousands of consumers and businesses worldwide, with a focus on customer satisfaction. KeepCalling has been listed by Inc 5000 as one of the fastest growing companies in the USA for 5 consecutive years. In 2015 the company registered a revenue increase of over 200% from 2011 to 2014.