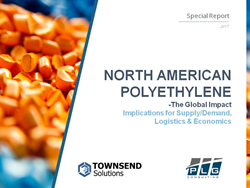 "This oversupply will create opportunities for large export growth because North American polyethylene is globally competitive." Roberto Ribeiro, President of Townsend Solutions
Houston, TX. (PRWEB) April 02, 2017
Domestic production of polyethylene will exceed domestic demand, creating opportunities over the next decade for North American companies to export their excess supply to regions like China, Africa and India. Thanks to the shale gas revolution, North America's cost competitiveness is driving this expected production capacity of polyethylene (PE) faster than domestic demand increases.
The global demand for PE, the largest global plastic resin, is expected to grow to 170 million metric tons per year by 2026, that's up from the 100 million metric tons per year produced in 2016.
"By 2019, North American PE production capacity is expected to grow by 36%, while demand is only going to grow by 11%," says Roberto Ribeiro, President of Townsend Solutions. "This oversupply will create opportunities for large export growth because North American polyethylene is globally competitive."
The increased domestic production of polyethylene has encouraged 123 PE converter investment announcements in the United State during 2015 and 2016. This number is expected to continue to grow.
Over the next decade, 110,000 new plastic industry jobs will be created, according the American Chemistry Council. All of this will make North America one of the most competitive regions in the world for production polyethylene products such as food packaging, films and pipes.
While there are many benefits of the large growth in PE products, there will be several challenges for producers and logistics solutions. "PE producers can prepare for the growth by developing significant trade partners and routes into four new regions — China, Western Europe, India, and Africa," says Mr. Ribeiro.
"Rail, truck and port congestion, container shortages, and limited sailings will hamper efficient logistics, especially at the Port of Houston — where most exports will flow out of because of its proximity to producers and packagers," says Taylor Robinson, President of PLG Consulting. "Alternative solutions will need to be developed outside the Houston area to provide options that can speed up the supply chain and minimize cost."
PLG Consulting and Townsend Solutions have developed the most comprehensive report available on the dynamic polyethylene expansion in North America. For more information go to: http://www.polyethylenereport.com.
About PLG Consulting:
PLG Consulting is a bulk logistics expert delivering solutions worldwide since 2001 to clients in the chemical and energy markets. The PLG experts are a team of industry veterans with real-world experience in the petrochemical industry, logistics, engineering, infrastructure design, and supply chain.
For more information contact Taylor Robinson at PLG Consulting at: trobinson(at)plgconsulting(dot)com.
About Townsend Solutions:
Townsend Solutions was founded in 1977 to provide market research, analysis, strategic consulting and advisory services to the petrochemical industry. Townsend is a culturally diverse team of 40+ handpicked petrochemical professionals, representative of over 20 different countries with a broad global footprint, and unique understanding of local markets.
For more information contact Peter Callais at Townsend Solutions at: petercallais(at)townsendsolutions(dot)com.