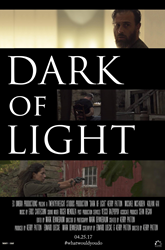 What is this thing we call justice?
Philadelphia, PA (PRWEB) April 04, 2017
Filmmakers are often quick to release a movie in hopes to see an immediate return of investment. Such is not the case for those behind Dark of Light.
Dark of Light's creators strategically waited for the month of April due to the month's themes of Sexual Assault and Child Abuse Awareness.
This is a movie is based on every parent's worst nightmare—finding your child sexually assaulted and left for dead.
Kerry Patton, co-star of WGN America's hit television show Outsiders, plays the role of a loving father torn with mental anguish who seeks revenge.
Michael McFadden, who recently played a detective alongside Ice-T in Bloodrunners, plays the role of a sexual predator.
Kulani Kai, who debuts in her first feature film, plays the role of a small town detective.
Dark of Light is intended to leave viewers asking the simple questions—"What would you do and what is this thing we call justice?"
Dark of Light will premiere in Montrose, Pennsylvania (Susquehanna County) on April 21st at the Montrose Movie Theater just days before its video on demand release.
Dark of Light will officially be released on iTunes, Amazon, Google Play, Vimeo on Demand, and VHX on April 25th.
You can follow the movie through its Facebook Page
https://www.facebook.com/darkoflightmovie/
Screeners of "Dark of Light" available to media upon request.