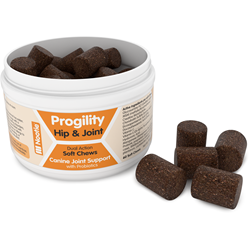 It further pushes our mission to provide the most optimal pet pet supplements--and owners seem to agree.
(PRWEB) June 02, 2017
Pet-care industry pioneer Nootie has reformulated their dog glucosamine chews for maximum health impact. Their Progility Hip & Joint supplements now contain probiotics, an ingredient that humans use on a regular basis to regulate many different health functions.
"There is a very important reason why we decided to include probiotics in our hip and joint supplement," a Nootie representative states. "While we love our formula of glucosamine, vitamin C, and chondroitin, we thought that the addition of probiotics would allow for easier and faster absorption into the body. It further pushes our mission to provide the most optimal pet supplements--and pet owners seem to agree."
The Nootie hip and joint supplement for dogs contains high dosages of active ingredients, which allow daily doses for dogs up to 90 lbs. in just one chew. Smaller dogs will not need to eat the whole chew. A dosage guide is provided with this purchase.
Pet owners who have purchased this product have provided positive feedback, explaining that the ingredients were a major reason they chose the Nootie brand over competitors. One person writes, "By looking at the description, you can see that there's a ton of great ingredients in this product, especially the glucosamine. We were on a different glucosamine for dogs product, that worked well, and it looks like Progility will take it to the next level. And my pooch loves to eat it."
Another customer shared,"This is a premium product with excellent ingredients. This dog supplement is better than all the other products I have had my dog try in the past. My dog eats them right away, and within a week I noticed that he moves quicker--and it seems that his bad left hip does not ache anymore."
To see additional customer reviews, product images, and product specifications, visit https://www.amazon.com/Progility-Chewable-Joint-Supplement-Dogs/dp/B01G7GYAGK.