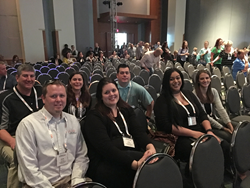 Our team loves the opportunity for professional development and networking.
McHenry, Maryland (PRWEB) April 03, 2017
Taylor-Made Deep Creek Vacations & Sales, a leading vacation rental and real estate firm located in McHenry, MD, recently attended the Eastern Regional Conference in Savannah, GA for the Vacation Rental Management Association (VRMA).
Taylor-Made owner, Jodi Refosco, is secretary of the VRMA board and presented two sessions to a packed house. Covering topics geared towards company owners, Refosco educated peers on strategies to grow rental home inventory and marketing from an owner's perspective.
Joe Refosco, Taylor-Made owner, is President of Vacation Rental Housekeeping Professionals. He was involved with two presentations that focused on housekeeping best practices and staff training methods.
Taylor-Made employees, representing various departments, also attended the conference and were present for sessions on topics that included customer service, marketing trends, housekeeping logistics and teambuilding techniques.
"I have a strong commitment to sharing the knowledge that I have gained over the twenty years I have been in this industry," Jodi stated. "Presenting at industry events is a natural fit for me, and our team loves the opportunity for professional development and networking."
In May, representatives from the Taylor-Made management team will travel to the VRMA Western Regional Conference in Anaheim, CA. Chris Rodeheaver, Reservations and Customer Service Manager, will lead a session that teaches communication skills to improve the guest experience. During their time in California, they will also attend a course at the Disney Institute.
Taylor-Made is family owned and operated by Jodi Taylor Refosco, her husband, Joe Refosco, and her brother Chad Taylor. Betsy Spiker Holcomb and Jay Ferguson are co-owners of the real estate company that was started in 2014.
With over 360 homes, Taylor-Made is the largest vacation rental management company in the Deep Creek Lake area. Maintaining active roles in both VRMA and the Vacation Rental Housekeeping Professionals association keeps them at the forefront of developments in the industry.
About Taylor-Made Deep Creek Vacations & Sales
Taylor-Made Deep Creek Vacations & Sales has become a frontrunner in Deep Creek Lake vacation rentals, real estate, and property services. Taylor-Made rental homes and sales listings are conveniently located within a few hour's drive from Pittsburgh, Baltimore, and Washington, DC.