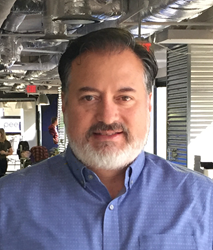 Mr. Robles is an innovator with expertise in networking, data architecture, startups, and business leadership.
Austin, Texas (PRWEB) March 31, 2017
JustLegal, a technology platform that allows attorneys to find new clients and improves the experience of choosing a lawyer, has announced the addition of Frank Robles as Chief Technology Officer.
The company has been recognized recently by the American Bar Association Techshow and Austin's Capital Factory, and will fuel its rapid growth in the legal tech industry with Robles' decades of experience building and running technology platforms and engineering teams.
"Frank's expertise in technology and operations is exactly what we were seeking to grow the team," said Willy Ogorzaly, CEO of JustLegal. "We were looking for a tenured individual who will guide our staff to build a scalable and stable product that can support the demand we're seeing from attorneys and clients."
With over 25 years of experience, Mr. Robles has held has served in many roles including CEO, CFO, Board member, Board Secretary, and Vice President at companies of varying size and specialization. Recognized as an innovator and out of the box thinker Mr. Robles, has many credits to his name, most notably his leadership in Fiber Optic Networking. As CEO of NanoSpace, Mr. Robles defined the Metro Ethernet networking market and architecture now used as a standard worldwide. Robles was involved in the growth and exits of Yipes, Netcom, Netscreen, Kana and Keyhole.
"JustLegal is very well positioned to change the industry, and as we build up our systems scalability and grow our SaaS offerings, we will deliver on the company's enormous potential," said Frank Robles, CTO of JustLegal.
ABOUT JUSTLEGAL
JustLegal is a web platform that enables clients to find attorneys, and attorneys to easily manage and fill their non-billable hours. Founded in Colorado in 2013, the platform has evolved to enable and simplify the process of finding professionals, while staying focused on the compliance, security, and privacy that are critical to the industry. JustLegal is now based in Austin, Texas as part of the Capital Factory accelerator program. For more information, go to https://justlegal.com/ or twitter.com/gojustlegal
-END-