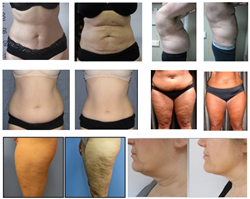 We are very excited by the growth that we are achieving across the pond. And we are confident Verju will prove to be 'THE' popular choice for those seeking a non-invasive fat loss or cellulite removal solution. -Charlie Shanks, VP of Erchonia Corp.
Melbourne, FL (PRWEB) April 03, 2017
Erchonia, the global leader in low level laser healthcare applications, announces their silver sponsorship of the 2017 AMWC (Aesthetic Medicine World Congress) in Monaco (Venue: Grimaldi Forum, Monte Carlo, Monaco Dates: 06-08th April 2017.). At the forefront once again will be the non-invasive Verju laser, FDA market cleared for the circumferential reduction of the waist, hips & thighs, the appearance of cellulite, and more recently 'Obesity,' and the newly FDA market cleared Lunula Laser, for the stimulation of new, clear nail growth. The Verju went on official release in Europe last year and can now be found in clinics around most European countries, as can the ever popular Lunula Laser.
The Verju laser is the only device on the market proven effective with a double-blind, multi-site, placebo-controlled study that delivered an average four inch loss after two weeks of treatment.
The Verju protocol consists of six, painless, 30 minute treatments; over two, three, or six weeks depending on the needs of the client. Erchonia's Verju laser produces a low-level output that has no thermal effect on the body's tissue and, unlike the majority of other devices on the market, its unique technology does not kill or damage fat cells and as per the FDA clearance, provides a 'non-temporary' result. The Verju laser instead creates a pore in each cell for the fat to leak out. The fat is then processed naturally through the lymphatic system, leaving the cell intact.
Leading cosmetic doctor, Dr. Miguel Montero from 'Discover Laser' in the UK will be presenting his workshop at AMWC titled "The World's First and Only Green Laser to receive FDA Clearance for Non-Temporary, Non-Invasive Body Contouring/Fat Loss and reduction in the appearance of cellulite" on 7th April in the Van Dongen room from 5.30 pm-6.30 pm.
"Following on from what has been a very successful year since the 2016 AMWC, we are delighted to be back again this year as silver sponsors," says Simon Ramshaw, Managing Director of UK based Erchonia Lasers Ltd. "We now have representation in a lot of new European markets and we are looking to continue our rapid growth in 2017 and beyond. To make a real change to people's lives, you have to push the boundaries, and we believe patients will revel in not just the clinically proven aesthetic benefits but the health benefits that our lasers bring. In tandem, this is what makes us stand out from other less effective technologies."
Here is what our existing clientele say about Verju:
Dr. Juan Mendieta` Plastic Surgeon, Clinica Medicina Estetica Medicos Medicos, Spain
"I chose Verju because I like to give my patients the best. I am happy with the results it gives me and the way the patient changes shape simply relaxing under the laser."
MD. Dinko Bagatin, specialist in general and plastic surgery clinic Bagatin, Zagreb
"Verju cold laser is the best alternative to surgical methods of body shaping. It provides excellent results, lowers volume in a very short period, and the recovery after treatment is not there. Anyone who is afraid of surgery, I recommend this excellent laser treatment."
Dr. Ivija Rajkovic, Medikol Clinic, Zagreb
"In addition to aesthetic purposes, is the unquestionable importance and usefulness Verju laser has in patients who struggle with obesity of any type. Non-invasive and painless, Verju showed a convincing result in the elimination of body fat, especially in patients who have problems with stubborn fat deposits in the abdominal area. Verju is a necessary therapy in the prevention and treatment of obesity."
Dr. Jasenka Kalajdžić - Čandrlić, clinic Lege Artis, Osijek
"Until now, numerous patients have undergone Verju treatments. Results of treatment have absolutely justified Verju owning FDA certificates for body shaping, volume reduction and removal of fat in obese patients. The results are truly astounding."
Avelina Kaselic-Kraljevic, MD., Medical Aesthetic Center Jupiter, Rijeka
"Green Verju laser is a top treatment that achieves excellent results, and patients do not feel anything that could cause discomfort. Indeed, usually half an hour after hatching under laser light, result is guaranteed. We are proud that we have in our offer included Verju and thereby increase the number of satisfied customers."
For more information, please visit http://www.Erchonia.com or http://www.Verju.com.
About Erchonia
Erchonia is the global leader in low level laser healthcare applications. For over two decades, Erchonia has been conducting research & development with the world's leading physicians to advance the science of low level lasers. Prior to market introduction, all Erchonia lasers are proven to be safe and effective through independent clinical trials. Currently thousands of Erchonia's lasers are used daily to reduce body fat, treat the appearance of cellulite, stimulate new clear nail growth for onychomycosis sufferers, veterinary applications and eliminate pain.
Charlie Shanks, Erchonia Corp., (888) 242-0571 cshanks(at)erchonia(dot)com
Julie Davies, Erchonia Europe., +44 1491 821135 jdavies(at)erchoniaeurope(dot)com