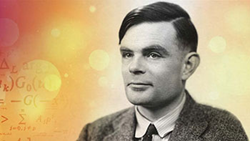 The Association for Computing Machinery (ACM) annually recognizes the visionaries who have advanced computing innovation with the ACM A.M. Turing Award, often referred to as the "Nobel Prize of Computing."
New York, NY (PRWEB) March 31, 2017
The Association for Computing Machinery (ACM) annually recognizes the visionaries who have advanced computing innovation with the ACM A.M. Turing Award, often referred to as the "Nobel Prize of Computing." This year, the award will be announced at 11 a.m. UTC/7 a.m. EDT on Tuesday, April 4.
WHO: ACM (http://www.acm.org) is the premier global community of computing professionals and students, with nearly 100,000 members in more than 170 countries, interacting annually with more than 2 million computing professionals worldwide.
WHAT: ACM recognizes excellence and achievement through its renowned awards program. Named in honor of Alan Mathison Turing (1912–1954), the British mathematician and computer scientist who articulated the mathematical foundations and limits of computing, the award carries a $1 million prize through financial support provided by Google, Inc.
Past ACM Turing laureates include Chuck Thacker, designer of the first modern personal computer; Vint Cerf and Bob Kahn, widely considered the "fathers of the Internet;" and John McCarthy, pioneer of artificial intelligence. Last year's award lauded the accomplishments of Whitfield Diffie and Martin E. Hellman, inventors of public key cryptography.
WHEN and WHERE: The announcement of this year's ACM Turing Award recipient will be made on Tuesday, April 4 at 11 a.m. UTC/7 a.m. EDT and will be posted on ACM web properties (acm.org, amturing.acm.org and acm.org/turing-award-50) and distributed via global newswires.
As part of the celebration in honor of 50 years of the ACM Turing Award, ACM has created a website (http://www.acm.org/turing-award-50), which provides compelling content from computing luminaries of the past and present. The anniversary celebration is to culminate in a special conference on June 23 - 24, 2017 at the Westin St. Francis in San Francisco commemorating the award, the prestigious laureates who have received it, and the developments and innovations stemming from their work, as well as providing a look ahead at the exciting innovations that will shape society in the future.
MORE: Biographies and background on the ACM Turing Award Laureates may be found at http://amturing.acm.org/.
Since its inception in 1966, the ACM A.M. Turing Award has become the most prestigious award in computing.