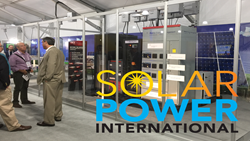 San Ramon, CA (PRWEB) April 03, 2017
Solar Power International (SPI), North America's largest solar trade show, held this year during North American Smart Energy Week – September 10-13 at Mandalay Bay Convention Center, Las Vegas Nevada, just announced its expanded footprint will include the entire smart building and microgrid ecosystems in its Smart Energy Microgrid Marketplace. They have selected EMerge Alliance, a non-profit open standards group, to technically facilitate this portion of the show floor. The Marketplace will feature a fully-functioning "live" microgrid and related product and services exhibits, including energy management systems, automation products, electric vehicle charging, energy storage providers, solar panel manufacturers and more — ultimately making the connection between solar power and smart energy products.
Applications for building and campus level hybrid ac/dc microgrids include residential, commercial, industrial, warehouse, retail, military, remote, and critical mission power systems. The Smart Energy Microgrid will be comprised of local (site based) renewable power sources combined on a direct current bus, a grid tie-in of utility power at line voltage, stored energy support, and both ac and dc outputs. Major features demonstrated will include the combining of multiple power source inputs without the need to synchronize; grid only, grid tied and islanded modes; extremely high efficiency throughput resulting from a reduced number of ac/dc and dc/ac conversions; high quality power distribution due to isolation from external line harmonics, voltage and frequency disturbances and blackouts; and instantaneous black-start capability with seamless ride-through in the islanded mode. Operating modes will include utility grid only; site based Distributed Energy Resources (DER) + utility grid; DER + storage + utility grid; and islanded DER and storage.
"We had tremendous success with our first live microgrid at SPI 2016," says Stephen Miner, President of the SPI show management company, Smart Energy Trade Shows (SETS). "The inaugural Smart Energy Microgrid Marketplace featured an outdoor pavilion, fully powered by a similar microgrid during the four-day event. So, we are excited to announce that we have selected EMerge again this year as the facilitator to make the SPI 2017 Smart Energy Microgrid Marketplace even bigger and better on the show floor at Mandalay Bay!"
EMerge President, Brian Patterson explained, "a variety of exhibitor supplied products including on-site solar arrays and other renewable energy sources will generate power for the Smart Energy Microgrid Marketplace exhibitors. On-site energy production will also be stored in a variety of exhibitor supplied storage technologies. In addition, utility power from the grid will be interconnected with the on-site microgrid. The intention is to paint a full picture of the smart energy ecosystem, and provide attendees a live demonstration of a real smart energy microgrid in use."
Planning is already underway for this year's live microgrid demonstration, which will include an education theater as an informational focal point of the Marketplace. The microgrid will be surrounded by smart energy-focused exhibitors of related equipment, software and services. Exhibit space is still available for organizations providing products and services to this rapidly expanding smart energy industry segment. Other expanded features of this year's tradeshow include the co-location of Energy Storage International and Hydrogen Fuel Cells North America. North American Smart Energy Week is a gathering of energy professionals looking to grow their renewable portfolio for businesses and communities. More than 18,000 energy professionals from across the world travel to the flagship event, Solar Power International. From solar and "smart energy" products to energy storage or fuel cells, the gathering features a variety of networking and accredited educational events.
About the EMerge Alliance
The EMerge Alliance is a nonprofit, open network of more than 100 organizations reinventing electric power through the development of vanguard standards for the highly efficient use of hybrid AC/DC power in a variety of buildings. These standards focus on alternatively delivering DC power directly to digital electronics and power storage systems, simplifying the use of locally produced clean energy and making systems more flexible, resilient and sustainable, while continuing to accommodate the use of ac power as inputs and outputs where appropriate.
Learn more at http://www.EMergeAlliance.org.
About SETS
Solar Energy Trade Shows, LLC (SETS) is the management company behind Solar Power International, North America's largest solar trade show, and Solar Power Events. The company was formed in 2009 by two leading solar industry advocates, the Solar Energy Industries Association (SEIA) and the Smart Electric Power Alliance (SEPA) to help raise the bar for solar power events.
Learn more at http://www.solarenergytradeshows.com/.
About SEPA
The Smart Electric Power Alliance (SEPA) is a non-profit organization dedicated to working with electric power stakeholders through the most pressing issues affecting the growth and utilization of smart energy. We are a trusted platform for education, research, standards, and collaboration to help utilities, customers, and other players deploy and integrate solar, storage, demand response and other distributed energy resources. Through educational activities, working groups, peer-to-peer opportunities and advisory services, SEPA engages interested parties in facilitating necessary information exchange and knowledge transfer to offer the highest amount of value for our membership and partner organizations.
Learn more at https://sepapower.org/.
About SEIA
Celebrating its 43rd anniversary in 2017, the Solar Energy Industries Association is the national trade association of the U.S. solar energy industry, which now employs more than 260,000 Americans. Through advocacy and education, SEIA® is building a strong solar industry to power America. SEIA works with its 1,000 member companies to build jobs and diversity, champion the use of cost-competitive solar in America, remove market barriers and educate the public on the benefits of solar energy.
Learn more at http://www.seia.org/.