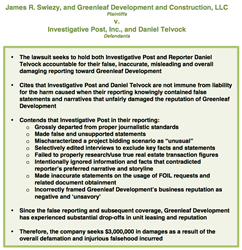 According to court documents, "Investigative Post and Mr. Telvock have made false statements, false negative implications, and false innuendos about Mr. Swiezy's reputation and Greenleaf's business reputation," stated David J. McNamara, Attorney
Buffalo, NY (PRWEB) April 03, 2017
Greenleaf Development and Construction, LLC and its principal/CEO, James R. Swiezy, today commenced a defamation lawsuit against Investigative Post and reporter Daniel Telvock. The lawsuit's cited intent is to hold both Investigative Post and Mr. Telvock accountable for their alleged "false," "misleading" and "damaging statements" made about Greenleaf Development and Mr. Swiezy during reporting on a local student housing project undertaken by the company. Greenleaf Development's full complaint is available at http://greenleafbuffalo.com/news (as officially submitted to the Supreme Court of the State of New York, County of Erie, Erie County Clerk filing index number 804436/2017).
According to court documents, "Investigative Post and Mr. Telvock have made false statements, false negative implications, and false innuendos about Mr. Swiezy's reputation and Greenleaf's business reputation," stated David J. McNamara, attorney for Greenleaf Development and Mr. Swiezy, and partner at Phillips Lytle LLP. "Mr. Telvock and Investigative Post intended and endorsed the Statements' falsities and false negative inferences, insinuations, and innuendos...in an apparent attempt to bolster Investigative Post's 'watchdog journalism' profile and elicit donations for the not-for-profit company."
Investigative Post is a registered 501(c)(3) tax-exempt organization. According to court documents, the organization systematically seeks and obtains charitable donations to fund, primarily, the salaries and benefits paid to its founder and editor, James Heaney, and Mr. Telvock. Over several years, Investigative Post's coverage of the Greenleaf Development student housing project allegedly included "false statements" and "misleading" narratives for the purpose of "enhancing its notoriety and fundraising capacity" for financial benefit. The lawsuit alleges that such practices may constitute an abuse of Investigative Post's tax-exempt status. Accordingly, Greenleaf Development has filed papers with the NYS Charities Bureau requesting that the State Attorney General review Investigative Post's tax-exempt status due to its alleged "deceptive" business and fundraising practices.
Greenleaf Development is a property management, construction and development company that currently owns and operates over 100 buildings and nearly 500 apartment units in the City of Buffalo and Western New York. The company is committed to providing safe, affordable quality apartments in the region and has been actively involved in real estate management and development since 1986.