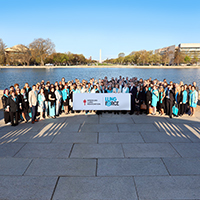 Lung cancer is the leading cause of cancer deaths, and we're bringing our message to Congress today for patients who need more treatment options and methods of early detection - Harold P. Wimmer, American Lung Association National President and CEO
Washington, D.C. (PRWEB) April 05, 2017
Today, the American Lung Association and LUNG FORCE Heroes - those personally impacted by lung cancer - came together from all 50 states at the U.S. Capitol to press their Senators and Representatives to support lung cancer patients during the second annual LUNG FORCE Advocacy Day. These lung cancer advocates are pushing for increased funding at the National Institutes of Health (NIH) that will result in better treatments and methods of early detection, as well as quality, affordable healthcare so that people with or at risk for lung cancer can get the care they need.
LUNG FORCE is uniting the nation in the fight against lung cancer, the #1 cancer killer of women and men. One reason lung cancer is so deadly is that most cases are not diagnosed until later stages when treatment options are limited, underscoring the need for more research funding to improve early detection methods and treatments, save lives and ultimately defeat this deadly disease.
"Lung cancer is the leading cause of cancer deaths, and we're bringing our message to Congress today for patients who need more treatment options and methods of early detection," said Harold P. Wimmer, National President and CEO of the American Lung Association. "Today's efforts are even more important in light of the President's recent FY 2018 budget proposal that calls for a $6 billion reduction in funding for NIH. Our message is clear - any reduction in funding will result in a setback for research and the health of Americans."
Every year, 224,000 Americans are diagnosed with lung cancer, and only 16 percent are diagnosed at an early stage when more treatment options are available. New methods of early detection are essential, as survival rates are five times higher when lung cancer is detected early.
LUNG FORCE Hero Pamela Billings from Oklahoma City thought she had the flu, and when she went to the clinic she was surprised by a lung cancer diagnosis. Following treatment, she is now four years in remission, and is a tireless advocate for lung cancer patients and increased NIH funding for lung cancer research.
"Similar to my experience, too many people are surprised by a lung cancer diagnosis. We need greater awareness about lung cancer so that those at high risk know their risks and screening options, giving them a better shot of catching the disease early," Billings said. "To save lives, we need more research funding to develop better treatment options and methods of early detection. I'm proud to stand alongside other lung cancer patients to make our voices heard on Capitol Hill on behalf of patients everywhere."
LUNG FORCE Heroes will also work to educate Congress about why quality and affordable healthcare is so important for people with or at risk for lung cancer. Last month, the House of Representatives considered the American Health Care Act, legislation that would have gutted the Essential Health Benefits – key patient protections in the Affordable Care Act.
"We want to make sure Congress understands why patient protections, including preventive services, are a fundamental part of healthcare," added Wimmer. "Prevention is the cornerstone of healthcare, and preventive services including tobacco cessation and coverage of lung cancer screening for those considered at high risk is imperative and will save lives."
LUNG FORCE Heroes from each state shared today how lung cancer has affected their lives. Every story is unique, yet each story highlights why investments in research funding and quality, affordable healthcare is critical.
The American Lung Association and its LUNG FORCE initiative encourage everyone to advocate for lung cancer research and quality, affordable healthcare with your members of Congress in Washington, D.C. Visit LUNGFORCE.org to learn more about LUNG FORCE and how you can contact your member of Congress.
Media interested in speaking with an expert about lung cancer and research funding, should contact the American Lung Association at Media(at)Lung(dot)org or 312-801-7628.
###
About the American Lung Association
The American Lung Association is the leading organization working to save lives by improving lung health and preventing lung disease, through research, education and advocacy. The work of the American Lung Association is focused on four strategic imperatives: to defeat lung cancer; to improve the air we breathe; to reduce the burden of lung disease on individuals and their families; and to eliminate tobacco use and tobacco-related diseases. For more information about the American Lung Association, a holder of the Better Business Bureau Wise Giving Guide Seal, or to support the work it does, call 1-800-LUNGUSA (1-800-586-4872) or visit: Lung.org.
About LUNG FORCE
LUNG FORCE is a new national movement led by the American Lung Association to unite women against lung cancer, the #1 cancer killer of women. LUNG FORCE has three priorities: 1) Make lung cancer a cause that people care about – and act on; 2) Educate and empower patients and healthcare providers and 3) Raise critical funds for lung cancer research. The American Lung Association's LUNG FORCE is nationally presented by CVS Health. Find out more at LUNGFORCE.org.
American Lung Association • 55 W. Wacker Drive, Suite 1150 • Chicago, IL 60601
1331 Pennsylvania Ave. NW, Ste. 1425 North • Washington, D.C. 20004
1-800-LUNGUSA (1-800-586-4872) Lung.org