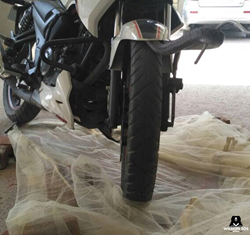 Our team conducts cobra rescues and surveys across the country to encourage people to handle such incidents in a sensible manner.
Uttar Pradesh, India (PRWEB) April 02, 2017
Motorcycle riders can face a litany of dangers: clueless car drivers, sudden rainstorms, unexpected patches of gravel, and so on. But one thing American riders don't have to sweat out is this: cobras.
Last week in Uttar Pradesh, India, a rider was shocked to discover the deadly reptile trying to hitch a ride in his bike's front wheel. A quick call to conservation group Wildlife SOS solved the problem — the group's been rescuing elephants, bears, leopards, and yes, cobras, in India for more than 20 years, and runs a 24-hour hotline for such occurrences.
According to Indian newspaper The Hindu, "The sight of a cobra crawling up the front wheel of a motorcycle left the residents of Exotica East Square in Indirapuram in a state of shock."
Snake rescuers from the NGO were surprised to see the snake wedged tightly between the motorcycle's frame and wheel. The team needed nearly 30 minutes to extricate the scaly stowaway, which was safely transported from the area.
"The cobra was about 5 foot long," said Wildlife SOS co-founder Kartick Satyanarayan. "We're happy that [the biker] did not try to handle the animal itself, which is extremely dangerous. Our team conducts snake rescues and surveys across the country to encourage people to handle such incidents in a sensible manner."
According to the Times of India, snake bites killed 46,000 people in India in 2011.
About Wildlife SOS: Wildlife SOS (WSOS) is one of the largest rescue and conservation charities in South Asia, operating 10 wildlife rehabilitation facilities across India. This includes the world's largest sloth bear rescue center and the recently established Elephant Conservation and Care Center, which is the first of its kind in India and currently houses approximately 25 rescued elephants. WSOS also runs a tribal rehabilitation project creates alternative livelihoods for poachers and other indigenous communities that once depended on wildlife for a economic sustenance. Additionally, WSOS operates a leopard rescue center, a wildlife hotline in New Delhi and Agra, and Forest Watch, which is an anti-poaching wildlife crime enforcement unit. More information about the organization can be found at http://www.wildlifesos.org. The U.S. branch of Wildlife SOS is based in Salt Lake City, Utah, and received 501(c)3 charity status in 2005.