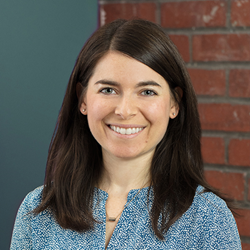 Buffalo, NY (PRWEB) April 04, 2017
Viaduct adds to their growing team with the hire of Sarah Shapiro as Director of Content and Programming. In her role, Sarah will lead marketing, operations, and content strategy while supporting Viaduct's overall mission to address the wide-ranging challenges facing startups and small businesses.
Sarah joins Viaduct from Food Network and Cooking Channel where she was the Director of Advertising and Strategy, and previously was an Account Manager at BBH, an international advertising agency. With 10+ years of experience building brands and developing marketing strategies for businesses of all sizes, Sarah will guide startups and small businesses as they navigate their growth. Sarah has a B.A. in Public Policy Studies with a certificate in Markets and Management from Duke University.
"Adding someone of Sarah's caliber to the Viaduct team is central to our ability to help increasing numbers of startups and small businesses accelerate their revenue growth. We are thrilled that she has chosen to use her significant talents and capabilities to this end," says Johan Klarin, Managing Director of Viaduct.
A Buffalo native, Sarah just recently returned to the area with her family from NYC and is thrilled to be back in Buffalo. "It's incredible to see all of the new development and growth in the community, especially with the emerging startup scene. I am so excited to be back and be a part of it all," says Sarah.
About Viaduct
Based in Buffalo, NY, Viaduct brings world-class solution providers and vetted talent to startups and small businesses that want to grow and scale. To learn more visit http://myviaduct.com/