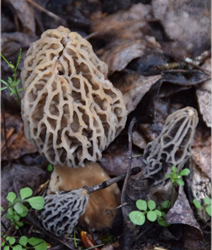 "The easiest mushroom kit to use." Organic Gardening Magazine
Sebastopol, CA (PRWEB) April 02, 2017
Over three million visitors have visited the Gourmet Mushroom Products' (GMHP) web site – http://www.gmushrooms.org – to learn about mushrooms and buy gourmet mushroom growing kits. Mushroom Kits are the perfect gift for mushroom lovers of all ages. Doug Oster of the Pittsburgh Post-Gazette said of GMHP's kits: "Mushroom kits yield bumper crop in just a few days. I was surprised to find that one of the kits had grown full-sized mushrooms. They were so big that the log toppled off the mantel. I harvested them and threw them into a pan of hot olive oil for about three minutes."
The GMHP web site offers three ways of growing organic, delicious, healthy, gourmet mushrooms at home:
1. Outdoor Morel Habitat Kits which produce morels for years.
2. Indoor Mushroom Log Kits for quick, delicious results.
3. Outdoor Plug Spawn for long term production.
The Morel Habitat Kit was developed so everyone could enjoy growing morels, outdoors, in their back yard and have a personal supply of fresh morel mushrooms to eat in the spring. The Morel Habitat can supply an individual with pounds of morel mushrooms in a garden area as small as 4 - 5 sq. ft. Morel Habitats are perennial and may be started any time your soil is workable - Spring, Summer, Fall and even Winter (in areas with a mild climate). Morel Habitats may be started in any type of soil and have produced morel mushrooms in all areas of the United States that have a definite transition from winter to summer. Customers have found morels in their Habitats 24 years after they were established! Everybody with a yard has most or all of the materials needed to create and maintain the Morel Habitat. Complete instructions for preparing and maintaining your Morel Habitat are included. Morel Habitat Spawn may be stored in the refrigerator for up to six months before planting.
For over 25 years GMHP has been bringing fresh gourmet mushrooms kits into homes across the country. Rated "Best Overall, Best Value. Best Flavor, too." by the Wall Street Journal, GMHP's mushrooms logs are Certified Organic, easy to use and guaranteed. GMHP's mushroom logs are specifically designed for in-home use, but produce the same top-quality fresh gourmet mushrooms used at many of the country's finest restaurants. The kits are ready to send to anybody in the U.S. who enjoys growing, and then eating, fresh gourmet mushrooms in their home. Choose from Shiitake, Blue Oyster, Sonoma Brown Oyster, King Oyster, or Lion's Mane Kit. Gourmet Mushroom Kits provide fresh, delicious, exotic mushrooms in your home or office - without the day hike or identification books!
Organic Mushroom Plug Spawn is available for affordable, sustainable back yard cultivation of hardy gourmet and medicinal mushroom species: Shiitake, Maitake (Hen-of-the-Woods), Hericium (Lion's Mane), Ganoderma (Reishi), Blue Oyster, and Sonoma Brown Oyster. Plug Spawn lets you cultivate mushrooms by inoculating logs with grooved birch plugs fully colonized by pure mushroom mycelium. Log cultivation is usually done with logs 4 - 6 inches in diameter with a length of 3 to 4 feet and each log can produce mushrooms for up to four years. One of the best times for cutting the logs is Late winter or early spring for spring inoculation.