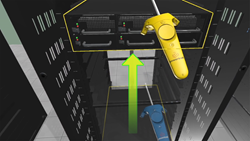 Powertrak 3D CPQ and VRoom enable consumers to move storage and server units from slot-to-slot to see how each change affects cabling length and BOM cost. - Mike Belongie
Los Angeles, California (PRWEB) April 05, 2017
Axonom, a global provider of visual configure-price-quote (CPQ) software, today unveils its 3D CPQ and Virtual Reality Data Center Rack Design Exhibit at Data Center World Global 2017, the global conference for data center, facilities and IT professionals. The visual CPQ and virtual reality (VR) station gives conference attendees a first-hand experience how to configure racks and rack components, visualize cabling connections, interact with components, and explore the data center room layout.
"Visual CPQ and Virtual Reality together is a strategic business tool for consumers to make better, more informed buying decisions," said Mike Belongie, COO at Axonom. "Data center racks have a number of complex components, wiring, and configuration possibilities. The slightest configuration change may result in a dramatic price increase. Powertrak 3D CPQ and Virtual Reality enable consumers to move storage and server units from slot-to-slot to see how each change affects cabling length and BOM cost."
Powertrak 3D CPQ is a cloud-based quoting, ordering, and configuration solution designed for manufacturers to provide its sales, dealers, and customers with a platform to visually custom build racks and design data center floor plans. The virtual reality experience, powered by Powertrak VRoom, transports users directly into a virtual data center facility where they can explore the designed room and interact with a rack's servers, storage, and power supply products using the HTC Vive.
Together, Powertrak 3D CPQ with Dynamic Wiring and VRoom combine to deliver a complete design-to-order-to-experience solution suite. These solutions enable users, with little-to-no technical knowledge, to design with confidence, order accurately, and experience first-hand the designed racks and data center room layout prior to purchase or installation.
Axonom welcomes Data Center World attendees and exhibitors to booth 742 for demonstrations on configuring data center racks using Powertrak 3D CPQ, then experiencing the design in virtual reality. "We invite everyone to design a rack with our configurator's stunning, three-dimensional product models, and then experience it in VR. Virtual Reality has become a powerful tool for us to develop a connected sales experience with trade show attendees and leave them more informed, engaged, and comfortable with Powertrak CPQ," said Belongie.
About Axonom
Axonom is a worldwide leader in marrying Visual Configure, Price, Quote (CPQ) software with Virtual Reality (VR) experiences. Established in 2002, the developer of Powertrak 3D Product Configurator and VRoom enables sales, channel partners, and customers around the world to visually build products and design environments, then experience it in virtual reality.
Enriched with mobile extendibility, the Powertrak solution suite includes: Configure-Price-Quote, 2D/3D Visual Product Configurator, Guided Selling, Virtual Reality Mobile Showroom, and Web Portals. By delivering more transactions more efficiently through channels at a lower cost, Powertrak helps customers achieve greater profit potential. For more information, please visit http://www.axonom.com.
About Data Center World
Data Center World is the global conference for data center, facilities and IT professionals. It offers premier education, abundant networking and the broadest access to best-in-class vendors. Designed to help data center and IT infrastructure professionals with challenging issues, Data Center World presents top-quality knowledge without bias toward a specific vendor product or service. Data Center World will be held April 3-6, 2017 at the Los Angeles Convention Center in Los Angeles, CA. For more information, visit datacenterworld.com.