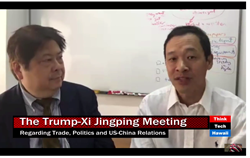 Mr. Trump should think about the kinds of jobs he wants to move back.
San Francisco, CA (PRWEB) April 03, 2017
With a momentous meeting shaping up next week between U.S. President Donald Trump and Chinese President Xi Jinping, U.S. companies with Chinese operations are anxiously awaiting further developments in trade policies between the two nations. Trump has called for tightened restrictions and tariffs on imports from China. And depending on the definition of imports, whether it includes goods and services and what types of goods and services, that could directly affect U.S. business owners like Philip Lew, the founder and CEO of XBOSoft, a software testing firm.
While the company is registered and headquartered in the U.S., many of XBOSoft's engineers and support staff are located in XBOSoft's Beijing office. Lew is concerned about altered trade policies that could affect XBOSoft's ability to provide cost-effective software testing services to its US clients. Would there be tariffs on technical services or will tariffs be targeted towards products?
Lew is be happy to share his thoughts with the media on any trade restrictions a Trump Administration might impose on companies like XBOSoft. He spoke out on these issues recently in an interview on ThinkTech, a digital news an information channel that examines technology trends and topics from the Hawaiian and Asian perspective. His bottom line: XBOSoft would not be able to offer its services at current prices to customers if it had to rely on U.S.-based engineers.
Among his comments:
Q: What's happening on the stage in the U.S. with President Trump and foreign trade policies—how does this affect American businesses that operate in China?
A: From a company standpoint, resources and smart people are always a constraint. If the talks impact the flow of goods and services across borders, to me there's a lot of uncertainty there as far as our customers in the US and how they can buy services from us. I think Mr. Trump should think about the kinds of jobs he wants to move back. Working in factory jobs—those kinds of jobs don't exist in the US any more. When I think about the U.S. labor market compared to [China], let's say I was looking for people in the San Francisco area, our labor rate might be 10 times higher or five times higher, to get the same quality of engineers. In remote places [in the US], it would be hard to find qualified engineers. So we are kind of stuck between a rock and a hard place in terms of finding the people we need at a cost that we can provide services that our customers would be willing to pay for.
Q: Could these policies lead to the death of businesses like yours, that depend upon Chinese engineers?
A: It certainly would be very hard [to survive]. We would have to reinvent ourselves. It's not something I even want to think about. If there were some kind of blanket policy for U.S. companies buying stuff from China, it certainly would cloud the waters for us.
In closing, Lew mentioned: "With a loyal team of engineers in Beijing that we've hired and trained over the last 10 years, it would be hard to find any team anywhere that can really provide the same levels of technical expertise that they can, at any cost. If we had to start over and build up a team somewhere else, would severely undermine the company itself."
Philip Lew can be reached at philip.lew(at)xbosoft(dot)com.