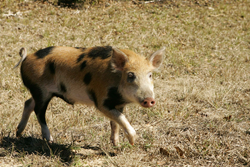 I believe that using Warfarin against feral hogs creates a situation that is both unconstitutional and inhumane.
Houston, Texas (PRWEB) April 02, 2017
Local rancher J.D. Glasscock is declaring war – a personal war against the use of Warfarin poison on feral hogs in Texas. Glasscock, who lives on an 8,700-acre Colorado County ranch originally acquired nearly 90 years ago by his great grandfather, is leading the charge against the use of Warfarin, which is at the root of Texas Agricultural Commissioner Sid Miller's "Hog Apocalypse" plan.
"I believe that using Warfarin against feral hogs creates a situation that is both unconstitutional and inhumane, which is why I'm actively engaged with the Texas Senate, House of Representatives and Attorney General's office to bring an immediate end to this program," Glasscock said. "We all recognize that feral hogs are an invasive problem, but we simply can't allow such an inhumane program on our farms, ranches and in our state."
Warfarin, a form of rat poison, causes hogs to bleed to death internally and externally, through the eyes, nose and rectum. It can take up to 30 days of suffering before death, according to Glasscock, and that is the chief reason for his objection. In addition, the poison can inadvertently kill wildlife, farm animals and family pets. Even getting into the human food chain is a possibility as feral hogs are regularly processed for the meat.
A former software engineer and entrepreneur, Glasscock has set up No2Poison.com to provide further education and garner additional support. Supporters can sign the "No to Poison" petition on the site.
"When they are poisoned in this manner, animals will seek water and shelter. That means that our ranch and others like it, which have an abundance of both, will become magnets for dying toxic hogs, leading to a host of other problems for Texas ranchers," Glasscock added. Federal law requires ranchers to bury deceased toxic hogs using special gloves while handling. "I believe this violates our property rights and this kind of government overreach should be a concern to every private property owner," he continued.
Instead, Glasscock and other ranchers that share his concerns advocate for more practical methods of dealing with the hog infestation that are environmentally safe and humane, such as more aggressive trapping and hunting programs.