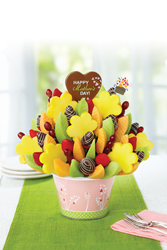 "My mom always encouraged me to work hard, make people happy and forget about the money." -Tariq Farid, Founder & CEO of Edible Arrangements®
WALLINGFORD, CT (PRWEB) May 05, 2017
Mothers are the hardest working people on the planet. Edible Arrangements® Founder and CEO, Tariq Farid, believes this wholeheartedly. He remembers his mother, Salma, doing everything she could to keep her struggling family happy and healthy – and he credits her with the success of Edible Arrangements®.
"My mom always encouraged me to work hard, make people happy and forget about the money," said Farid, "and as the Edible Arrangements® franchise has continued to grow, I've found more and more that this lesson is one of the secrets to our success, and the success of our amazing franchisees."
The lessons from Farid's mother live on the company today, and it's in her honor that Edible® is celebrating moms everywhere by donating delicious, fresh fruit across the U.S. to help other hardworking mothers who may not be able to otherwise afford fresh produce regularly.
Edible® will make bulk donations in four major cities in the days leading up to Mother's Day. A total of $20,000 of fresh fruit will be donated nationwide and will feed more than 600 families for an entire week! The donation schedule is as follows:
May 5th, Los Angeles Regional Food Bank, Los Angeles, CA
May 8th, Crossroads Community Services, Dallas, TX
May 9th, Atlanta Community Food Bank, Atlanta, GA
May 11th, Food Bank for New York City's Community Kitchen & Food Pantry, New York, NY
Edible Arrangements® will also help celebrate thousands of moms worldwide by delivering signature fresh fruit gifts this Mother's Day. It's Edible Arrangements®' busiest time of year; guests send fruit arrangements and gifts to their moms, partners, grandmothers, aunts, sisters, best friends and more!
This Mother's Day Edible® will deliver more than:
179,000 strawberries
13,500 pounds of grapes
41,000 pieces of pineapple
50,000 pounds of chocolate
Rob Price, President of Edible Arrangements® says, "A Mother's Day gift from Edible Arrangements® will always show Mom that you care – whether you're there in person or live 3,000 miles away. You can order online or with any local Edible Arrangements® store and have a Mother's Day gift hand-delivered that very same day. It's really an amazing way to celebrate motherhood and let any mom know you're thinking of her."
Freshly-crafted gifts from Edible Arrangements® are the shareable and unexpected way to show Mom you care this Mother's Day. The beautifully, hand-crafted designs make these gifts stand out and each recipient feel special.
To learn more about Edible Arrangements®' Mother's Day Collection go to http://edible.com/mothers-day-gifts.
About Edible Arrangements®:
With more than 1,300 franchise locations open or under development worldwide, Edible Arrangements International, LLC is the world's largest franchisor of shops offering creatively designed, fresh-cut fruit arrangements. Edible Arrangements® store locations also carry the company's rapidly expanding Edible To Go® line which features all-natural, fresh fruit smoothies, chocolate Dipped Fruit™, Froyo Fruit Blends™, fresh fruit salads, parfaits and treats. Since its founding in 1999 in East Haven, Conn., the company has been recognized as an industry leader, ranking first in its category in Entrepreneur magazine's annual "Franchise 500," Entrepreneur's Top 40 of "Fastest Growing Franchises" and "America's Top Global Franchises" as well as being included among the "Inc. 5000" list of the fastest growing, privately-held companies. Edible Arrangements®' fresh fruit arrangements, chocolate Dipped Fruit™, fresh fruit smoothies and more can be enjoyed at franchise locations worldwide. Gifts can be ordered online at edible.com, by phone at 1-877- DO-FRUIT ® or through any local Edible Arrangements® store.
Learn more at http://edible.com.