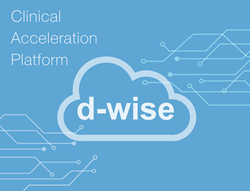 "d-Wise has bundled a solution customers require into a turnkey, cloud-based offering that limits the need for additional personnel and lowers risks associated with deploying a new infrastructure," said Rob Spee, Director, Global Channel Programs at SAS.
Morrisville, NC (PRWEB) April 05, 2017
d-Wise Technologies, a leading global technology consultancy and clinical software provider, today announced the availability of a new cloud platform with managed services specifically developed for the biopharmaceutical and contract research industries. The Clinical Acceleration Platform, d-Wise's latest clinical "as-a-service" cloud solution, is designed to provide rapid deployment of SAS and other software tools, accelerating time to insight and decision-making from a pre-validated, compliant and secure hosted environment.
The Clinical Acceleration Platform is the result of close collaboration between SAS and d-Wise and is designed to completely eliminate the regulatory burden associated with clinical systems validation, and accelerate the clinical development lifecycle through improved collaboration, efficient data acquisition, secure data storage, and fast aggregation and analysis.
d-Wise, a SAS Gold Partner, is recognized as a leading performer in delivering technology such as SAS Grid Computing and other software products embedded with SAS, including Reveal©, a clinical search tool, and Blur©, the industry-leading clinical trial data de-identification software solution.
"The ability to instantly deploy a cloud-based SAS validated environment – and be the first to do this – is very exciting for d-Wise and our clients," said Tom Dieker, Vice President of Global Client Engagement at d-Wise. "As a trusted SAS Partner, we see this new, instantly available, validated solution as being able to directly address the multitude of challenges faced by biotech, pharma and CROs – particularly the ability to focus on science and not IT deployment, with an ultimate goal of accelerating the drug development cycle."
Data insights are the key to many of the biggest challenges currently facing life sciences organizations. By making SAS' sophisticated data analytics capabilities available on demand, via a "pay-by-month" or "pay-by-study" cloud delivery model, d-Wise is offering the most streamlined way yet for life sciences organizations – including biotech, pharma and clinical research organisations (CROs) – to turn operational data into actionable intelligence.
"We've discovered that many SAS customers want quicker solutions but don't always have the necessary expertise, staffing or budgets to execute," said Rob Spee, Director of Global Channel Programs at SAS. "d-Wise is a valued Gold Partner who has bundled a much-needed solution that customers require into a turnkey, cloud-based offering that limits the need for additional personnel and lowers risks associated with deploying a new infrastructure. No installation or integration is required, which means they can quickly implement analytic solutions on demand. This results in lower overall IT costs and faster, more substantial ROI."
The instant availability of the Clinical Acceleration Platform will level the playing field, allowing smaller life sciences companies to respond to a range of new industry demands, without having to buy expensive software licences and maintain these internally.
d-Wise's Clinical Acceleration Platform is built on SAS Foundation 9.4 analytics software and includes a suite of best-of-breed clinical software tools and managed services. The platform is highly flexible and scalable, making it potentially available to the widest range of people in any location. The platform is hosted in secure global data centers that meet the highest criteria for resilience, data safeguarding and regulatory compliance. Because it is a validated and compliant environment, organizations will be freed from time-consuming validation processes required by regulatory agencies like the EMA and FDA.
d-Wise will introduce the Clinical Acceleration Platform during an upcoming webinar, "How to deploy a secure, compliant, cloud -based SAS clinical computing platform…in 24 hours." on April 20th at 11:00AM EST. http://www.bio-itworld.com/d-wise-how-to-deploy-a-secure-compliant-cloud/.
To learn more about d-Wise please visit http://www.d-wise.com
About d-Wise
d-Wise Technologies, Inc. http://www.d-wise.com is a technology leader with the expertise to empower world-class life science and healthcare organizations to resolve their business optimization challenges, and help them rapidly harness change by leveraging data, systems and processes to gain competitive advantage.
The d-Wise Life Sciences Practice has been providing clinical advisory and modernization services to our clients for over fourteen years. d-Wise consultants engage with life science clients to adopt a progressive and comprehensive approach to modernizing clinical trials through well-designed solutions and processes.
d-Wise looks at your systems, processes, architecture, etc. – and identifies those elements that inhibit your ability to achieve your clinical research goals. We then empower you to reach those goals by modernizing your software and solutions, business processes, and infrastructure. We tailor all solutions to meet our individual client needs and deliver the most efficient data integration, data warehousing and standards solutions within highly regulated industries exhibiting domain expertise that's rooted in knowledge of SAS software, clinical drug development and clinical data standards like CDISC. Our end-to-end expertise and assessment services encompass business process and change management; data and metadata-driven strategies; and vendor-agnostic infrastructure and technology assessments.
In healthcare, d-Wise helps organizations develop an analytic vision, and integrate and streamline data operations for rapid deployment of visual intelligence solutions and advanced analytic models.
d-Wise is well-known for their expertise and capability to implement advanced analytic solutions and improve operations, lower costs, improve health outcomes quality and facilitate executive decision-making. We have a broad range of experience that includes data optimization for actuarial, quality, medical-management, and operational functions, as well as support for IT and data organizations looking to implement best practices.
###