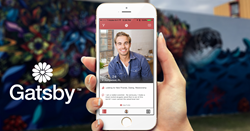 Gatsby is exclusive, no one with a criminal history can have a dating profile on our platform.
New York, NY (PRWEB) April 05, 2017
With over 40 million Americans utilizing online dating, finding someone new can be incredibly easy and scary at the same time. News articles from around the world have cited crimes linked to online dating are up seven fold. Gatsby's mission is simple. Their users' security and privacy is their primary focus.
Gatsby users are able to sign up like any other social discovery app. Look through user's profiles, message one another if there is a match, basically everything we've grown accustom to. The real magic happens under the hood with big data. Gatsby has a treasure trove of public data records exceeding several billion. These data records are what fuel Gatsby's high risk algorithms.
Every single user is compared against criminal and sex offender records. If there is a criminal match, that user is banned for life. These high risk algorithms were originally developed with their initial offering, Friend Verifier.
"Gatsby is 5 years in the making." said Joe Penora CEO and founder. "When we launched our first app Friend Verifier in 2012, we started the conversation. Now with Gatsby we are utilizing what we've learned. Creating a platform which will quickly become the industry standard for user security. Today we launch a safer way to meet people."
Background checks are expensive and time consuming just to verify every potential match. This makes it highly unlikely a person would even run a background check, putting themselves at risk. However if they did, it could cost them several hundred to several thousand dollars per year. Gatsby is moving the dating industry forward. With their advanced algorithms users no longer have to weigh personal security over their financial stability.
Unlike most technology startups, Gatsby is self-funded and was developed in 'stealth mode'. "The online dating space is extremely cluttered. There seems to be a new dating app launched every month. Each new offering might have a different spin on online dating. Yet none have addressed the 800 pound gorilla in the room. User security should be the foremost concern and Gatsby addresses this head on." said Joe Penora.
The biggest hinderance to online dating is feeling safe. If the Gatsby team is to have their way online daters now have a platform they can join with peace of mind. The Gatsby mobile app is completely free and is currently only available in the United States and in the Apple app store. An Android app is planned for later in the year.
iTunes Link: https://itunes.apple.com/us/app/gatsby-dating-without-the-baggage/id1106324594?mt=8