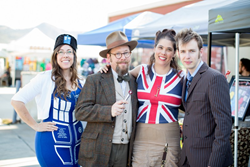 The World's first and largest craft faire celebrating the TARDIS and those who travel within her.
Burbank, CA (PRWEB) April 04, 2017
Geeky Teas and Games, Los Angeles' only board game and tea shop, will open the doors to its TARDIS once again for the biannual Doctor Who themed craft fair.
"The Art of the TARDIS" features more than 25 vendors from throughout Los Angeles and surrounding areas. The event features food trucks, free photos with The Doctor's time machine (TARDIS), photo opportunities with a screen-used Dalek, and more fun from the hit BBC show as well as Torchwood and The Sarah Jane Chronicles.
"The spirit of the Whovian community and the creative minds throughout southern California are what make this event so popular," said Donna Ricci, owner of Geeky Teas and Games. "It's a great chance for people who have never seen the show to see what it's about, interpreted through art, home goods and unique and handcrafted gifts. And for those already in love? You have a place to let your geek flag fly."
The Art of the TARDIS will take place Saturday, April 15 from 10 a.m. to 4 p.m. at Geeky Teas and Games, 2120 West Magnolia Blvd., Burbank.
Available items at the craft fair include: Custom-written stories featuring you and The Doctor (proceeds to benefit the 501 (c)3 GeeKitties cat rescue), custom glassware, jewelry, and more to prepare you for Doctor Who's new season (also launching April 15).
Art of the TARDIS event page on Facebook:
https://www.facebook.com/events/411244782543859/