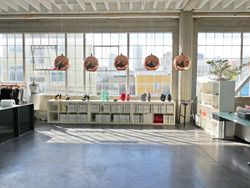 San Francisco, CA (PRWEB) April 03, 2017
Alloy Collective opens its doors for business on April 3, 2017. Alloy Collective is a team-oriented community where start-ups, creatives, and visionaries work alongside each other in a collective pursuit of a purpose-driven work+life. Much more than a coworking space, Alloy Collective is a collaborative workspace that provides the support and education entrepreneurs and startups need to succeed. From hands-on workshops, to immersive training programs, to custom consulting & professional services, Alloy Collective aspires to ensure its business community does better together. And from private chef tastings, to artist speaker series, to intimate music performances, Alloy Collective seeks to bring the larger Bay Area together so that the community can live better together.
Alloy Collective is the latest innovation of Ed Kim, CEO of Six Spoke Media, a three-time Inc. 5000 award-winning advertising agency, in San Francisco. "Even before the concept of coworking existed, I've dreamt about creating a space where food, arts, music, and entrepreneurship could intersect to form true communities, beyond just coworking spaces with fancy furniture. With Alloy Collective, we now have the opportunity to do so. And if we do this right, our hope is that each and every person in our community will thrive in their work+life and in our common and universal pursuit of life, liberty and happiness."
Alloy Collective will be offering a variety of events and services designed to help companies and individuals reach their goals through networking events in San Francisco, workshops, bootcamp-style courses, marketing and business consulting and back-office services so that entrepreneurs can focus on building their core offerings.
Given its location in the SF Bay Area, home to many of the world's most esteemed innovators, Alloy Collective provides two convenient locations in FiDi and SOMA. Alloy Collective is headquartered in the award-winning building, the Tehama Grasshopper. The Grasshopper is a recipient of the AIA Institute Honor Award for Interior Architecture, which celebrates the most innovative and spectacular interior spaces.
A second 2-story location in the financial district features floor-to-ceiling cherry wood, providing its community the rustic feel of a log cabin down to the cast iron sculptural fireplace.
Design is central to both of Alloy Collective's spaces with the goal of maximizing inspiration, collaboration and happiness. Both places are also available for rent as evening and weekend event spaces in San Francisco.
Interested in learning more? Attend the Launch Party on Thursday, April 6, 2017 from 6pm PST to midnight. Alloy Collective will be featuring entrepreneurship coach Joan Bodensteiner, award-winning chef Timothy Luym, and artist Dave Young Kim, winner of the Asian Pacific American Heritage Foundation Award. Tickets can be purchased here.