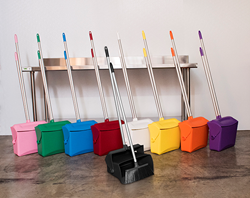 ZIONSVILLE (PRWEB) April 05, 2017
Food processors have a new choice in lobby dustpan and broom sets. Remco Products is putting out a high-quality lobby dustpan set made of FDA-approved materials. The handles are made of sturdy aluminum and the dustpan itself is made of polypropylene, a durable and food-safe plastic, and is manufactured right here in the United States.
Remco knows the value of hygienically designed cleaning tools in the food processing industry. Smooth angles and a lack of crevices make the hygienically designed dustpan easy to keep clean, and don't provide a space for bacteria to grow and multiply in. The handles detach for easy cleaning, too.
The dustpan smoothly swings open and closed on two hinges that lock into the open position to make sweeping into and emptying the pan easier. Store the broom in the fitted capture located on the dustpan lid to carry and store the set as one unit. The included broom is made of polypropylene and medium-textured polyester bristles. The bristles are ideal for sweeping up small and large particles.
The large, 7" by 14" bin allows for big and small cleanup jobs while the tall, 37" handle prevents back pain that stems from leaning over shorter dustpans. The dustpan is ideally suited for food processing facilities, where hygienically designed, food-safe tools are needed. However, they can also be useful in many different applications where a hygienic and sturdy dustpan and broom set is needed.
The lobby dustpan and broom set will come in nine different colors to promote HACCP color-coding plans, like many of Remco's tools. The colors can be used to designate which zone the dustpan set should be used in. This means products that touch raw meat won't be used in zones where finished products are being packaged. Keeping zones separate helps prevent cross-contamination and allergen cross-contact.
The Lobby Dustpan set will be available for purchase April 1, 2017. In the meantime, customers who have questions about it may contact cs(at)remcoproducts(dot)com or go online for more information at http://remcoproducts.com/lobbydustpans/.
About Remco Products
Remco provides color-coded tools for cleaning and material handling where hygiene and safety are critical. The introduction of a food-safe poly shovel more than 30 years ago established Remco as an industry pioneer of hygienic design. In addition to its hygienic shovels, scoops, and scrapers, Remco features Vikan's advanced line of brushes, brooms, and squeegees. Together with Vikan, Remco supports color-coding plans by offering more tools in more colors than any other supplier. Remco also provides training and support to end users, helping ensure regulatory compliance. Regardless of an operation's size or complexity, Remco has the tools and expertise to help execute HACCP color-coding plans.